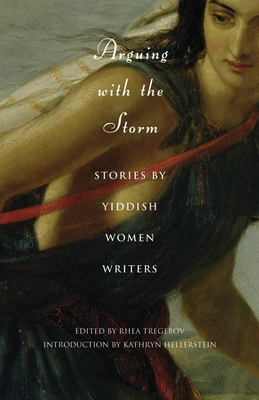 Arguing with the Storm
Stories by Yiddish Women Writers (Jewish Women Writers)
Hardcover

* Individual store prices may vary.
Description
From the shtetl to the New World, from failed revolutions in tsarist Russia to the Holocaust, these Yiddish tales illuminate a lost world from a woman's distinctive perspective. For decades, stories by Yiddish women writers were available only to those who spoke the "mother tongue" of Eastern European Jews. This translation brings some of the "lost" women writers of the golden age of Yiddish to English-speaking readers.
Their stories range from the wryly humorous--a girl seeking a wet nurse for her cousin brings him to a shiksa, with dire consequences--to the bittersweet, as a once-idealistic revolutionary now sees her hopes for humanity as "fantasy." The title is from a poem that describes a widow arguing with a storm that threatens her harvest. It is a metaphor for the Holocaust, whose dark cloud was rising. Arguing with the Storm is a joy to read and a tribute to all those women, who, in arguing with the storm, fought to protect their families and way of life.
The anthology includes works by Sarah Hamer-Jacklyn, Bryna Bercovitch, Anne Viderman, Malka Lee, Frume Halpern, Rochel Bruches, Paula Frankel-Zaltzman, Chava Rosenfarb, and Rikuda Potash.
Rhea Tregebov teaches creative writing at the University of British Columbia and is the author of six critically acclaimed books of poetry, most recently (alive): Poems New and Selected. She collected these tales with the help of the Winnipeg Women's Yiddish Reading Circle.
Feminist Press, 9781558615595, 128pp.
Publication Date: March 1, 2008
About the Author
Rhea Tregebov was born in Saskatoon, Saskatchewan, Canada and raised in Winnipeg, where she received her undergraduate education. She did her graduate work in literature at Cornell and Boston Universities, receiving her M.A. from BU in 1978. Tregebov is the author of six critically acclaimed books of poetry, including (alive): New and Selected Poems. She has also published five popular children's picture books. In addition to Arguing with the Storm, she is the editor of a number of anthologies of essays, poetry and fiction, including Gifts: Poems for Parents. Her work has received a number of literary prizes, including the Pat Lowther Award, Prairie Schooner Readers' Choice Award, and the Malahat Review Long Poem Award for her poetry.