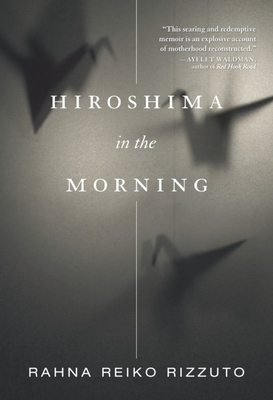 Hiroshima in the Morning
Paperback

* Individual store prices may vary.
Description
2010 FINALIST FOR THE NATIONAL BOOK CRITICS CIRCLE AWARD
In June 2001, Rahna Reiko Rizzuto went to Hiroshima in search of a deeper understanding of her war-torn heritage. She planned to spend six months there, interviewing the few remaining survivors of the atomic bomb. A mother of two young boys, she was encouraged to go by her husband, who quickly became disenchanted by her absence.
It is her first solo life adventure, immediately exhilarating for her, but her research starts off badly. Interviews with the hibakusha feel rehearsed, and the survivors reveal little beyond published accounts. Then the attacks on September 11 change everything. The survivors' carefully constructed memories are shattered, causing them to relive their agonizing experiences and to open up to Rizzuto in astonishing ways.
Separated from family and country while the world seems to fall apart, Rizzuto's marriage begins to crumble as she wrestles with her ambivalence about being a wife and mother. Woven into the story of her own awakening are the stories of Hiroshima in the survivors' own words. The parallel narratives explore the role of memory in our lives and show how memory is not history but a story we tell ourselves to explain who we are.
Praise For Hiroshima in the Morning…
A brave compassionate, and heart-wrenching memoir, of one woman's quest to redeem the past while learning to live fully in the present."

Kate Moses, author of Cakewalk, A Memoir and Wintering: A Novel of Sylvia Plath

"This searing and redemptive memoir is an explosive account of motherhood reconstructed."

Ayelet Waldman, author of Red Hook Road

"This book is an important contribution to the growing understanding that we are all part of history, and we all make history. A moving account of a contemporary voyage, which is also a voyage back in time, reckoning with and bearing witness to one of the great tragedies of the last century."

Susan Griffin, author of A Chorus of Stones

"If remembering lies at the heart of all memoir, the best memoir goes far deeper, asking questions about the propulsive nature of time, the consequences of forgetting, and the treacherous liberations of solitude. Hiroshima in the Morning is a memoir of the most sophisticated kind, a lyric, a quest, a universal poem."

Beth Kephart, author of A Slant of Sun, a National Book Award finalist

"Rahna Reiko Rizzuto's new book is intimate and global, lyrical and clear-eyed, a compelling personal narrative, and an important social document. Here past and present, Hiroshima and 9/11, interweave to tell a story of unendurable loss and tragedy but also of tenacity, survival, and rebirth"

Lauren Kessler, author of Stubborn Twig: Three Generations in the Life of a Japanese American Family
Feminist Press, 9781558616677, 320pp.
Publication Date: September 14, 2010
About the Author
Rahna Reiko Rizzuto's highly acclaimed first novel, Why She Left Us, won an American Book Award in 2000, and was praised by the New York Times as "ambitious, lyrical, and intriguing." She is a recipient of the US/Japan Creative Artist Fellowship, funded by the National Endowment for the Arts, which inspired her memoir, Hiroshima in the Morning; she is also the associate editor of The NuyorAsian Anthology: Asian American Writings About New York City; and she is a faculty member in the MFA in creative writing program at Goddard College where she teaches fiction and nonfiction. Her essays and short stories have appeared in journals and newspapers including the Los Angeles Times, Salon, and the Crab Creek Review, and in anthologies including Mothers Who Think, Because I Said So, and Topography of War. Rizzuto is half-Japanese/half-Caucasian. She grew up on the Big Island of Hawaii and now lives in Brooklyn.