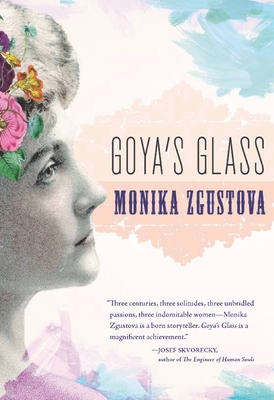 Goya's Glass (Paperback)
Feminist Press, 9781558617971, 322pp.
Publication Date: July 10, 2012
* Individual store prices may vary.
Description
The Duchess of Alba, known as Goya's muse, recalls the passions of youth on her deathbed in the royal court of eighteenth-century Madrid. A young woman defies the protocols of her arranged marriage and pursues love--and the life of a published writer--until her readers condemn her as a danger to society in the Austro-Hungarian Empire. Nina Berberova escapes persecution during the Russian Revolution and flees to Paris, where the intelligentsia naively covet the promise of a Soviet Union. These three women attempt to find passion and intimacy in worlds that rarely accommodate female desire. Goya's Glass is an unforgettable novel of guilty pleasures coursing through history.
About the Author
Monika Zgustova was born in Prague and lives in Barcelona. She has published seven books, including novels, short stories, a play, and a biography. Her novel The Silent Woman (2005) was one of two runners-up for the National Award for the Novel, given by the Spanish Ministry of Culture. Zgustova has also received the Giutat de Barcelona and the Merce Rodoreda awards in Spain, and the Gratias Agist Prize given by the Ministry of Foreign Affairs in Prague. She has translated more than fifty books of Russian and Czech fiction and poetry, including the works of Milan Kundera and Vaclav Havel, into both Spanish and Catalan.
Praise For Goya's Glass…
"In her first novel to be translated into English, Prague-born writer Zgustova masterfully reimagines the true stories of three inimitable women--the Duchess of Alba, the lover and muse of 18th-century Spanish painter Francisco Goya; Božema Nemcová, a Czech writer and nationalist living in the 19th-century Austro-Hungarian empire; and Nina Berberova, a Russian exile residing in Paris during the former's revolution. Readers learn of the Duchess' passionate encounters with Goya through her 1st-person accounts. Likewise, through intimate reflections, telegrams, and reports propagated by the protectors of the "Austrian fatherland," Zgustova diagrams the surveillance and attempted repression of the tenacious Nemcová's voice and spirit. Nina Berberova fled from the newly installed Soviet regime in 1922 with poet Vladislav Felitsianovich Khodasevich, whose amorous musings on their relationship are interweaved with Berberova's sentimental letters detailing the plight of their home country. For Zgustova and her triad of women, the experience of exile--so delicately rendered in Berberova's letters--is as palpable as the struggle to survive beneath the weight of a repressive regime, as documented in Nemcová's life story. Inhabiting the crossroad between history and imagination, Zgustova's new novel is a tantalizing and powerful effort." Publishers Weekly


A powerful testament to the determination of women to circumvent stifling societal strictures and boundaries." Booklist

"Monika Zgustova's concerns are close to my own: the fate of the individual in the hands of totalitarianism. She is an outstanding writer, whose fiction invokes the politics and culture of people throughout history."Vaclav Havel

"Three centuries, three solitudes, three unbridled passions, three indomitable womenMonika Zgustova is a born storyteller. Goya's Glass is a magnificent achievement."Josef Skvorecky, The Engineer of Human Souls

The portraits of three women of different nationalities and centuries in Goya's Glass reveal a unique voice that owes as much to Kundera as to Flaubert, to Hasek as to Tolstoy. Monika Zgustova is a perfect example of a writer without borders, whose literary creations include the cultures and languages that she has accumulated throughout her lifetime."Juan Goytisolo, Exiled from Almost Everywhere