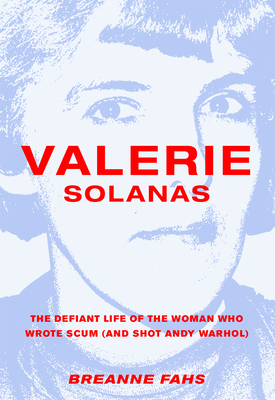 Valerie Solanas (Paperback)
The Defiant Life of the Woman Who Wrote Scum (and Shot Andy Warhol)
Feminist Press, 9781558618480, 382pp.
Publication Date: April 22, 2014
* Individual store prices may vary.
Description
Too drastic, too crazy, too "out there," too early, too late, too damaged, too much--Valerie Solanas has been dismissed but never forgotten. She has become, unwittingly, a figurehead for women's unexpressed rage, and stands at the center of many worlds. She inhabited Andy Warhol's Factory scene, circulated among feminists and the countercultural underground, charged men money for conversation, despised "daddy's girls," and outlined a vision for radical gender dystopia.
Known for shooting Andy Warhol in 1968 and for writing the polemical diatribe SCUM Manifesto, Solanas is one of the most famous women of her era. SCUM Manifesto--which predicted ATMs, test-tube babies, the Internet, and artificial insemination long before they existed--has sold more copies, and has been translated into more languages, than nearly all other feminist texts of its time.
Shockingly little work has interrogated Solanas's life. This book is the first biography about Solanas, including original interviews with family, friends (and enemies), and numerous living Warhol associates. It reveals surprising details about her life: the children nearly no one knew she had, her drive for control over her own writing and copyright, and her elusive personal and professional relationships.
Valerie Solanas addresses how this era changed the world and depicts an iconic figure whose life is at once tragic and remarkable.
About the Author
Breanne Fahs is an associate professor of women and gender studies at Arizona State University, where she specializes in studying women's sexuality, critical embodiment studies, radical feminism, and political activism. She has a BA in women's studies/gender studies and psychology from Occidental College and a PhD in women's studies and clinical psychology from the University of Michigan. She has published widely in feminist, social science, and humanities journals, as well as the books Performing Sex with SUNY Press (2011) and The Moral Panics of Sexuality (2013). She is the director of the Feminist Research on Gender and Sexuality Group at Arizona State University, and also works as a private practice clinical psychologist specializing in sexuality, couples work, and trauma recovery.
or
Not Currently Available for Direct Purchase