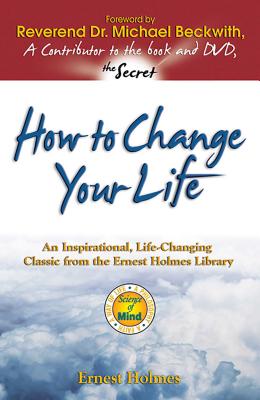 How to Change Your Life
An Inspirational, Life-Changing Classic from the Ernest Holmes Library
Paperback

* Individual store prices may vary.
Description
Ernest Holmes's rational, lucid explanation of why our thoughts have power will instruct readers on how they can change their lives by changing their thinking. "The wisdom of God is within you, and you can use it to improve your life."
How to Change Your Life presents:


ideas on life and God essential to contemporary spiritual understanding

how science and spirituality have merged and what that means for you

step-by-step instructions on how to use Science of Mind to improve your experience of life

These principles, along with techniques for applying them, are thoroughly described in this book. If readers are ready to positively jumpstart their lives, this is the book that can help them do it.
Health Communications Inc, 9781558746862, 336pp.
Publication Date: May 1, 1999
About the Author
Ernest Holmes (1887-1960) was the founder of the Science of Mind philosophy and movement. Ernest Holmes's teachings are based on both Eastern and Western traditions, and the empirical laws of science and metaphysics. Science of Mind is a spiritual philosophy that people throughout the world have come to know as a positive, supportive approach to life. These ancient truths have kept pace with and proven their relevancy in today's global village and its expanding technology and warp-speed changes. Author of The Science of Mind, the seminal book on his teachings, Holmes also founded the monthly periodical, Science of Mind magazine, which has been in continuous monthly publication since 1927.