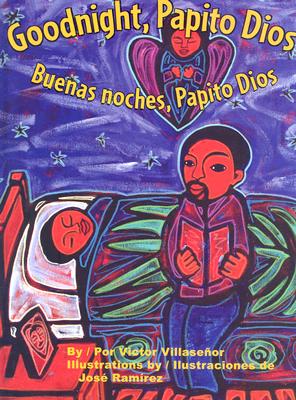 Goodnight, Papito Dios/Buenos Noches, Papito Dios (Hardcover)
Pinata Books, 9781558854673, 32pp.
Publication Date: November 30, 2007
Description
Papa, I don't want to go to sleep. I'm scared. Everyone knows that the trick to putting children to bed is creating a bedtime routine, and in this new children's story from Victor Villasenor, he recreates his own family's bedtime tradition. Papa tells his son that every night when he was a boy, his mother would sing him to sleep with the turtledove song. Coo-coo-roo-coo-coooo, he sings, and tells the little boy about his very own Guardian Angel who will take him through the night sky to be reunited with God, or Papito Dios. Then in the morning, you'll come back refreshed, rested, and powerful as the wind. As Papa sings the turtledove song to his son, he reminds the child that Mama loves him, the dog and the cat love him, and his brothers and sisters love him too. Even the trees and grass and the flowers that dance in the wind love him. Gradually, the boy drifts off to sleep, feeling safe and warm in God's love and dreaming of the day when he will sing the turtledove song to his own children.
Advertisement