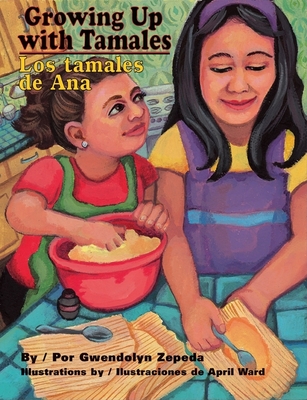 Growing Up with Tamales/Los Tamales de Ana (Hardcover)
Pinata Books, 9781558854932, 32pp.
Publication Date: May 31, 2008
Description
Young Adult Fiction. Latino/Latina Studies. Bilingual Edition translated from the Spanish by Gabriela Baeza Ventura. Illustrated by April Ward. Ana envies her elder sibling and wishes she could do what Lidia does: put just the right amount of meat inside the tamales and roll them up; steam the tamales without scalding herself with the hot, hot steam; chop and cook the meat for the tamales without cutting or burning her hands. When she turns eighteen, though, Ana knows she will keep making tamales and she will be able to do all of the steps herself in her very own factory. When Christmas comes around, Ana will deliver tamales to all of her customers around the world, in delivery trucks that say Ana's Tamales. And maybe Ana will even let Lidia work for her. Gwendolyn Zepeda's rhythmic prose is combined with April Ward's bright illustrations to create an affectionate and amusing story about sibling relationships that introduces an important Hispanic holiday tradition--making tamales.
Advertisement