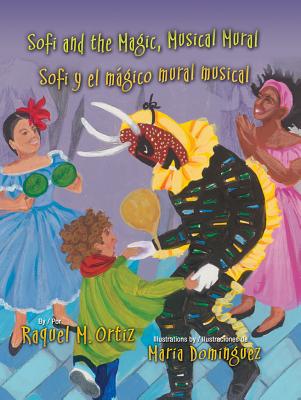 Sofi and the Magic, Musical Mural / Sofi Y El Magico Mural Musical
Hardcover

* Individual store prices may vary.
Description
When Sofi walks through her barrio to the local store, she always passes a huge mural with images from Puerto Rico: musicians, dancers, tropical flowers and her least favorite a vejigante, a character from carnival that wears a scary mask.

One day on her way home from the bodega, she stops in front of the mural. Is one of the dancers inviting her to be his partner? "Okay, let's dance," Sofi giggles, and suddenly she's in Old San Juan, surrounded by dancers and musicians playing bongos, tambourines and g iros. She begins to dance and sing with her new friends, but her pleasure turns to fear when the vejigante wearing a black jumper with yellow fringe and a red, three-horned mask spins her around and around What does he want from her? How can she get away?

This story about an imaginative girl and a magical mural is an engaging exploration of Puerto Rico's cultural traditions as well as an ode to public art and the community it depicts.
Pinata Books, 9781558858039
Publication Date: May 31, 2015