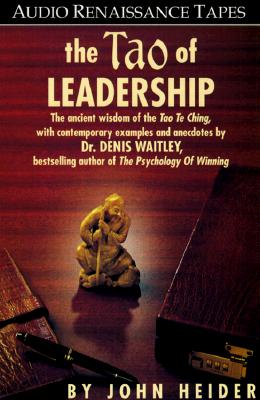 The Tao of Leadership
The ancient wisdom of the Too Te Ching, with contemporary examples and anecdotes by Dr. Denis Waitley, be
Audio Cassette

* Individual store prices may vary.
Other Editions of This Title:
Paperback, Dutch (7/28/2010)
Paperback, Spanish (7/28/2010)
Hardcover (1/1/1985)
Paperback, Japanese (7/22/2010)
Paperback, Hebrew (7/22/2010)
Paperback (4/19/1986)
Paperback, Swedish (12/1/1985)
Description
How to be the very best kind of leader
In the fifth century B.C., the Chinese sage Lao Tzu set down the laws of effective leadership that he had discovered after years of meditation and careful observation. He called his invaluable teaching Tao Te Ching, which translates as 'The Book of How Things Happen', and addressed it to the wisest, most powerful leaders of his day.
Knowing how things happen gives the leader more power and ability than all the degrees and titles the world can offer. This program -- featuring comments and anecdotes by bestselling author Dr. Denis Waitley -- will help you learn how things happen.
The principles within this program are for anyone who aspires to leadership, whether in business, politics, government, school, church or family. Through a combination of excerpts from the Tao Te Ching, juxtaposed with contemporary examples that illuminate the quotations, The Tao of Leadership instructs listeners in the art of governing through the skillful management of human resources.
Macmillan Audio, 9781559270878
Publication Date: September 1, 1990
About the Author
Dr. Denis Waitley is recognized as an authority on high-level achievement and personal excellence. One of America's most sought-after keynote speakers, he has studied and counseled leaders in every field from Superbowl and Olympic athletes to astronauts and top corporate executives. Among his books are "The Psychology of Winning, Seeds of Greatness, The Winner's Edge," and his newest release, "Being the Best."

Ralph Blum has narrated a host of titles for Macmillan Audio, including "Hero with a Thousand Faces," "He," "She," "Zen Practice," and "The Book." In describing Ralph's reading of "Zen in the Art of Archery," also published by Macmillan Audio, "AudioFile" magazine declared, "Selecting reader Ralph Blum was a great way to resurrect the ideas in this rich and satisfying book. His academic tone inspires respect and makes the ideas even more intriguing."
or
Not Currently Available for Direct Purchase