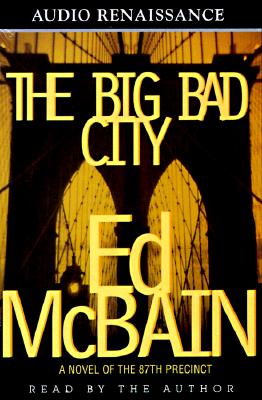 The Big Bad City (Audio Cassette, Abridged)
Macmillan Audio, 9781559275361
Publication Date: December 1, 1998
* Individual store prices may vary.
or
Not Currently Available for Direct Purchase
Description
You don't kill a nun in the 87th... not and get away with it.

One thing you have to understand about this city is: it's dangerous. Never mind the reassuring bulletins from the mayor's office. Just watch the first ten minutes of the 11:00 o'clock news every night and you'll learn in the wink of an eye exactly what the people of this city are capable of doing to each other. And 11:00 is when the city learned about a nun strangled in the park.

Detectives Carella and Brown of the 87th Precinct catch the case. Who'd kill a nun? Why? Their search for answers will lead them far from the big bad city, into the South, into the past --- into a dark moment in the nun's life when she wasn't Sister Mary Vincent. It was a moment when she bore witness to evil.

But Sister Mary's murder isn't the only think concerning the men of the 87th. They're also hunting for the Cookie Boy, a burglar who may have graduated from taking people's property to taking their lives. And sliding through the city's shadows is Sonny Cole, a thug with murder on his hands and the murder of detective Stephen Louis Carella on his mind.
About the Author
Ed McBain, author of the 87th Precinct and Matthew Hope mystery novels, is one of America's most prodigious and popular novelists. He is also a successful writer for television and cinema, whose credits include the screenplay for Alfred Hitchcock's "The Birds." Writing under his real name, Evan Hunter, Mr. McBain has published dozens of his books including the classic bestsellers "The Blackboard Jungle, Strangers When We Meet, "and "Criminal Conversation."
Advertisement