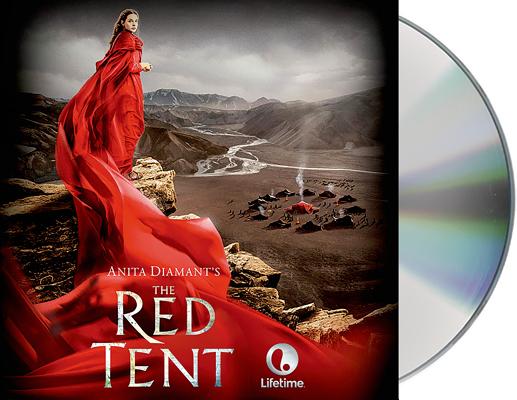 The Red Tent - 20th Anniversary Edition (CD-Audio)
A Novel
Macmillan Audio, 9781559277099
Publication Date: January 5, 2002
Other Editions of This Title:
Digital Audiobook (2/28/2003)
Mass Market (11/25/2014)
Paperback (8/21/2007)
Paperback (11/4/2014)
* Individual store prices may vary.
Description
Deeply affecting, The Red Tent combines rich storytelling with a valuable contribution in modern fiction: a new perspective of female life in biblical society. It is a vast and stirring work described as what the Bible might have been had it been written by God's daughters instead of sons.
Far beyond the traditional women-of-the-Bible sagas in both impact and vigor, The Red Tent is based upon a mention in Genesis of Jacob's only female offspring—his daughter, Dinah.
Author Anita Diamant, in the voice of Dinah, gives an insider's look at the details of women's lives in biblical times and a chronicle of their earthy stories and long-ignored histories. The red tent of the title is the place where women were sequestered during their cycles of birthing, menses, and illness. It is here that Dinah hears the whispered stories of her four mothers—Jacob's wives Leah, Rachel, Zilpah, and Bilhah—and tells their tales to us in remarkable and thought-provoking oratories. Familiar passages from the Bible take on new life as Dinah fills in what the Bible has left out—the lives of women. Dinah tells us of her initiation into the religious and sexual practices of the tribe; Jacob's courtship with Rachel and Leah; the ancient world of caravans, farmers, midwives, and slaves; her ill-fated sojourn in the city of Sechem; her years in Canaan; and her half-brother Joseph's rise in Egypt.
Skillfully interweaving biblical tales with characters of her own invention, the author re-creates the life of Dinah providing an illuminating portrait of a courageous woman and the life she might have lived. A new view of the panorama of life in biblical times emerges from the female perspective, and the red tent itself becomes a symbol of womanly strength, love, and wisdom.
The Red Tent is one of those extremely rare publishing phenomenons—a little promoted, but dynamically successful book (over 250,000 copies sold) that owes its success to enthusiastic word-of-mouth endorsements. Now, for the first time, this sweeping saga, which has struck a chord with so many modern-day women, comes to life as a much-anticipated audiobook.
About the Author
Anita Diamant is the author of The Red Tent, a word-of-mouth bestseller and the Booksense Best Fiction selection. She is also the author of the novels Good Harbor, The Last Days of Dogtown and Day After Night, a collection of essays, Pitching My Tent, as well as six books about contemporary Jewish life, including The New Jewish Wedding and Choosing a Jewish Life: A Guidebook for People Converting to Judaism. Diamant grew up in Newark, New Jersey, and Denver, Colorado. She has a bachelor's degree from Washington University in St. Louis and a master's in English from the State University of New York at Binghamton. She lives in Massachusetts with her husband. 
Carol Bilger
narrated the audiobook versions of
On Death and Dying
by Elizabeth Kübler-Ross as well as Anita Diamant's
The Red Tent
, both published by Macmillan Audio. Of
The Red Tent
,
AudioFile
commented, "Carol Bilger narrates with a warmth and melodiousness that echo the rhythm of the musical interludes that separate chapters." Bilger has provided voice-overs for films such as
Descent 3
and
Blazing Stewardesses
. She has also done voice work for the television series
Bionic Six
.
Praise For The Red Tent - 20th Anniversary Edition: A Novel…
"By giving a voice to Dinah...the novel has struck a chord with women who may have felt left out of biblical history." —Los Angeles Times
"With stirring scenery and a narrative of force and color, a readable tale marked by hortatory fulminations and voluptuous lamentations." —Kirkus Reviews
"After several nonfiction works on Judaism, Diamant's fiction debut links the passions of the early Israelites to the ongoing traditions of modern Jews, while the red tent of her title (where women retreat for menstruation, childbirth and illness) becomes a resonant symbol of womanly strength, love and wisdom....Diamant succeeds admirably in depicting the lives of women in the age that engendered our civilization and our most enduring values." —Publishers Weekly
"By giving a voice to Dinah...the novel has struck a chord with women who may have felt left out of biblical history." —Los Angeles Times
"With stirring scenery and a narrative of force and color, a readable tale marked by hortatory fulminations and voluptuous lamentations." —Kirkus Reviews
"After several nonfiction works on Judaism, Diamant's fiction debut links the passions of the early Israelites to the ongoing traditions of modern Jews, while the red tent of her title (where women retreat for menstruation, childbirth and illness) becomes a resonant symbol of womanly strength, love and wisdom....Diamant succeeds admirably in depicting the lives of women in the age that engendered our civilization and our most enduring values. " —Publishers Weekly
or
Not Currently Available for Direct Purchase