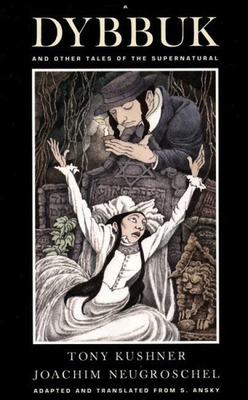 A Dybbuk (Paperback)
And Other Tales of the Supernatural
Theatre Communications Group, 9781559361378, 192pp.
Publication Date: December 1, 1997
Other Editions of This Title:
Paperback (6/28/2017)
* Individual store prices may vary.
Description
"Tony Kushner's adaptation of A Dybbuk, perhaps the greatest classic of Yiddish drama, is passionate and illuminating." -Clive Barnes, New York Post "Some playwrights want to change the world. Some want to revolutionize theater. Tony Kushner is that rarity of rarities: a writer who has the promise to do both." -New York Times
"As filtered through Kushner, the play has a deep wistfulness about a flawed but rich culture on the precipice of apocalyptic change, about technology poised to tear through ancient truths and the seductions of assimilation ready to devastate whatever culture is left after the slaughters of the twentieth century." -Linda Winer, Newsday The first part of the book features Tony Kushner's remarkable, imaginative adaptation of The Dybbuk by S. Ansky (from Joachim Neugroschel's translation), with an afterword by Harold Bloom. Considered by many to be the greatest Yiddish drama, The Dybbuk recounts the tale of a wealthy man's daughter who is possessed by the spirit of her dead beloved. Also included in this volume is a selection of stories translated into English for the first time by Joachim Neugroschel, illuminating different aspects of the Jewish mystical world, including possessions, transmigration, fairy tales, parables and miracles.

About the Author
Tony Kushner's plays include Angels in America; Hydriotaphia, or the Death of Dr. Brown; The Illusion, adapted from the play by Pierre Cornelle; Slavs!; A Bright Room Called Day; Homebody/Kabul; Caroline, or Change, a musical with composer Jeanine Tesori; and The Intelligent Homosexual's Guide to Capitalism and Socialism with a Key to the Scriptures. He wrote the screenplays for Mike Nichols's film of Angels in America and for Steven Spielberg's Munich and Lincoln. His books include The Art of Maurice Sendak: 1980 to the Present; Brundibar, with illustrations by Maurice Sendak; and Wrestling with Zion: Progressive Jewish-American Responses to the Israeli-Palestinian Conflict, co-edited with Alisa Solomon.Among many honors, Kushner is the recipient of a Pulitzer Prize, two Tony Awards, three Obie Awards, two Evening Standard Awards, an Olivier Award, an Emmy Award, two Oscar nominations, and the Steinberg Distinguished Playwright Award. He is a member of the American Academy of Arts and Letters. In 2012, he was awarded a National Medal of Arts by President Barack Obama. He lives in Manhattan with his husband, Mark Harris. S. Ansky, pseudonym for Shloyme Zanul Rappoport, was a Russian-born writer and folklorist. The Dybbuk, Ansky's only complete dramatic work, was written in 1914 and was first produced by the Vilna Troupe in 1920, two weeks after his death. Joachim Neugroschel has translated 160 books from French, German, Italian, Russian and Yiddish, including works by Kafka, Chekov, Bataille, Sholem Aleichem, and Nobel laureates Thomas Mann, Elias Canetti and Albert Schweitzer. In 1996 he was made a chevalier in France's Ordre des Arts et des Lettres.