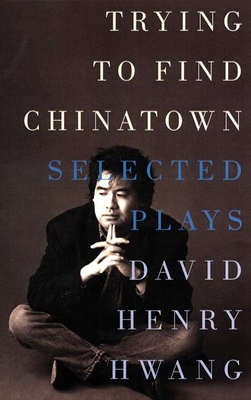 Trying to Find Chinatown
The Selected Plays
Paperback

* Individual store prices may vary.
Description
"David Henry Hwang is a true original. A native of Los Angeles, born to immigrant parents, he has one foot on each side of a cultural divide. He knows America - its vernacular, its social landscape, its theatrical traditions. He knows the same about China. In his plays, he manages to mix both of these conflicting cultures until he arrives at a style that is wholly his own. Mr. Hwang's works have the verve of well-made American comedies and yet, with little warning, they can bubble over into the mystical rituals of Oriental stagecraft. By at once bringing West and East into conflict and unity, this playwright has found the perfect means to dramatize both the pain and humor of the immigrant experience." -Frank Rich, New York Times Throughout his career, David Henry Hwang has explored the complexities of forging Eastern and Western cultures in a contemporary America. Over the past twenty years, his extraordinary body of work has been marked by a deep desire to reaffirm the common humanity in all of us. This volume collects a generous selection of Mr. Hwang's plays, including FOB, The Dance and the Railroad, Family Devotions, The Sound of a Voice, The House of Sleeping Beauties, The Voyage, Bondage, and Trying to Find Chinatown. FOB is an OBIE Award-winning play that explores the contrasting experiences, attitudes, and conflicts of established Asian Americans and fresh-off-the-boat (FOB) Asian immigrants. One of David Henry Hwang's earliest plays, FOB has been called "a theatrically provocative combination of realism and fantasy... A sensitive, insightful, and multilevel play" (Christian Science Monitor). In The Dance and the Railroad, two Chinese workers on the Transcontinental Railroad struggle through poverty and hunger to reconnect with the traditions of their homeland. "An evocative portrait of the immigrant experience," The Dance and the Railroad is set in 1867 during a strike in an Asian labor camp (New York Post). Family Devotions takes a different look at the clash between East and West through the perspective of a Chinese American family living in a Los Angeles suburb. The Chicago Tribune calls Family Devotions "a funny and compassionate piece of writing." The Sound of a Voice is the original story of a lone samurai warrior and his encounter with a rumored witch in the woods. Inspired by Japanese folk stories and Noh theatre, this play of desperation and desire is about "timeless human emotion, a subject made all the more powerful by dialogue that rings with the power and rhythm of poetry" (Asian Avenue Magazine). In The House of Sleeping Beauties, an elderly man visits a unique brothel filled with sleeping virgins, where customers are only permitted to sleep in a shared bed. Based on Hwang's exploration of how the novelist Yasunari Kawabata was affected by his own stories, this play is "an earnest, considered experiment furthering an exceptional young writer's process of growth" (New York Times). Hwang's libretto for The Voyage was written in collaboration with composer Phillip Glass for the Metropolitan Opera's 500th year celebration of Columbus Day. Instead of focusing on Christopher Columbus, however, the three act opera is a more general exploration of time, space, and possibility. An encounter in an S&M parlor between a man and woman in full bodysuits sets the scene for Bondage, where their role play becomes "an exploration of race, love and politics in the weirdest possible contortions" (Northwest Asian Weekly). Trying to Find Chinatown, an exploration of racial identity and appearance, revolves around the interaction between an Asian street musician and a Caucasian man who claims Asian American heritage.

Theatre Communications Group, 9781559361729, 320pp.
Publication Date: December 1, 1999
About the Author
David Henry Hwang is the author of the Tony Award-winning M. Butterfly, Yellow Face (OBIE Award, 2008 Pulitzer Prize finalist), Golden Child (1997 OBIE Award), FOB (1981 OBIE Award), Family Devotions (Drama Desk nomination), and the books for musicals Aida (co-author), Flower Drum Song (2002 Broadway revival), and Tarzan, among other works. David Henry Hwang graduated from Stanford University, attended the Yale School of Drama, and holds honorary degrees from Columbia College in Chicago and The American Conservatory Theatre. He lives in New York City with his wife, actress Kathryn Layng, and their children, Noah David and Eva Veanne.