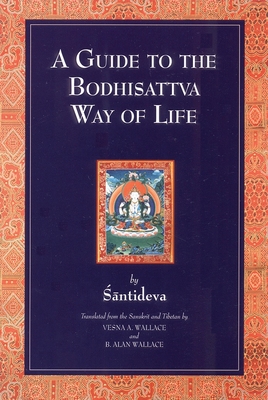 A Guide to the Bodhisattva Way of Life
Paperback

* Individual store prices may vary.
Description
A guide to the Bodhisattva ideal and the process of enlightenment, this edition of the classic Buddhist treatise "will stand for many years as the standard English translation" (Publishers Weekly)
 
In the whole of the Tibetan Buddhist tradition, there is no single treatise more deeply revered or widely practiced than A Guide to the Bodhisattva Way of Life. Composed in the eighth century by the Indian Bodhisattva Santideva, it became an instant classic in the curricula of the Buddhist monastic universities of India, and its renown has grown ever since. Santideva presents methods to harmonize one's life with the Bodhisattva ideal and inspires the reader to cultivate the perfections of the Bodhisattva: generosity, ethics, patience, zeal, meditative concentration, and wisdom.
Praise For A Guide to the Bodhisattva Way of Life…
"Will stand for many years as the standard English translation of this key Tibetan Buddhist text."—Publishers Weekly

"The Wallaces have produced a concise, literal, and elegant translation. The extant Sanskrit edition frequently differs from the one used in Tibet a millennium ago, and the Wallaces have noted these differences in copious footnotes. These features make their translation both highly readable and an excellent source for scholars of the original languages."—Tricycle
Snow Lion, 9781559390613, 152pp.
Publication Date: January 1, 1997
About the Author
Shantideva was a scholar in the eighth century from the monastic university Nalanda, one of the most celebrated centers of learning in ancient India. According to legend, Shantideva was greatly inspired by the celestial bodhisattva Manjushri, from whom he secretly received teachings and great insights. Yet as far as the other monks could tell, there was nothing special about Shantideva. In fact, he seemed to do nothing but eat and sleep. In an attempt to embarrass him, the monks forced Shantideva's hand by convincing him to publicly expound on the scriptures. To the amazement of all in attendance that day, Shantideva delivered the original and moving verses of the Bodhicharyavatara. When he reached verse thirty-four of the ninth chapter, he began to rise into the sky, until he at last disappeared. Following this, Shantideva became a great teacher.

B. Alan Wallace has authored, translated, edited, and contributed to more than forty books on Tibetan Buddhism, science, and culture. With fourteen years as a Buddhist monk, he earned a BA in physics and the philosophy of science and then a PhD in religious studies. After teaching in the Department of Religious Studies at the University of California, Santa Barbara, he founded the Santa Barbara Institute for Consciousness Studies to explore the integration of scientific approaches and contemplative methods.