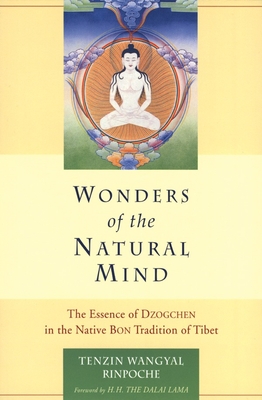 Wonders of the Natural Mind: The Essense of Dzogchen in the Native Bon Tradition of Tibet (Paperback)
The Essense of Dzogchen in the Native Bon Tradition of Tibet
Snow Lion Publications, 9781559391429, 224pp.
Publication Date: July 18, 2000
Description
Although the Dzogchen teachings are principally familiar to Westerners through the teachings of the Nyingma school, they also survive in the ancient Bon Religion of Tibet. Wonders of the Natural Mind presents Dzogchen as taught in the Zhang Zhung Nyan Gyud, the fundamental Bon text. The book summarizes the main points of Dzogchen and its relation to the various systems of Bon teaching. In offering these teachings, Tenzin Wangyal Rinpoche provides the reader with a vivid and engaging portrait of Bon culture as he interweaves the teachings with his personal story and reflections on the practice of Dzogchen in the West.
About the Author
Tenzin Wangyal Rinpoche, a lama in the Bon tradition of Tibet, presently resides in Charlottesville, Virginia. He is the founder and director of Ligmincha Institute, an organization dedicated to the study and practice of the teachings of the Bon tradition. He was born in Amritsar, India, after his parents fled the Chinese invasion of Tibet and received training from both Buddhist and Bon teachers, attaining the degree of Geshe, the highest academic degree of traditional Tibetan culture. He has been in the United States since 1991 and has taught widely in Europe and America.
Praise For Wonders of the Natural Mind: The Essense of Dzogchen in the Native Bon Tradition of Tibet…
"This book will be of great help to readers wishing to find a clear explanation of the Bön tradition, especially with regard to its presentation of the teachings of Dzogchen."—H.H. the Dalai Lama

"It is Tenzin's own experiences, both cultural and personal, that are the gem of this book, adding authority to his textual commentary."—John W. Tigue, PhD, Castleton State College

"Should be helpful to beginners and advanced practitioners alike. . . . A succinct summary of the essential points of Dzogchen, giving a synoptic overview of the tradition and its structure."—Indian International Journal of Buddhist Studies
Advertisement