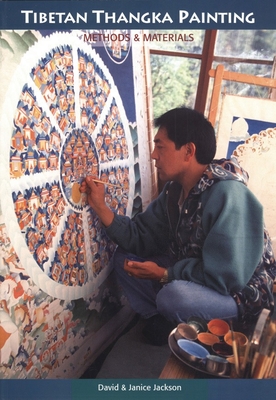 Tibetan Thangka Painting: Methods & Materials (Paperback)
Methods & Materials
Snow Lion Publications, 9781559392570, 202pp.
Publication Date: August 14, 2006
Description
Tibetan Thangka Painting is the only detailed description of the techniques and principles of the sacred art of Tibetan scroll painting. It is the distillation of research carried out over a period of ten years, collected during five journeys to Nepal and India, and compiled from some twenty traditional painters. This book presents, step-by-step, the techniques used to make a thangka from the preparation of the canvas to the final application of the sacred syllables behind each completed figure. Separate chapters introduce the reader to the basic principles of composition, color, and figure proportions. Included are descriptions of the pigments and how they are mixed and applied. A wealth of drawings and photographs illustrates each step and the many line drawings of symbols and motifs drawn by Robert Beer will greatly aid artists and serve as unique resource for designers. Robert Beer has also contributed a section which includes valuable guidelines for those who wish to paint thangkas using modern techniques and commercially available materials.
About the Author
David Jackson is Professor of Tibetan Studies at Hamburg University. He is the author of A Saint in Seattle and A History of Tibetan Painting. He lives in Hamburg, Germany.
Praise For Tibetan Thangka Painting: Methods & Materials…
"Absolutely incredible book. Highly recommended." —Circle of Light

"An indispensable reference manual for anyone interested in Tibetan art." —Parabola

"At last this wonderful 1984–86 'how to' book has been reprinted. Every possible aspect is covered, firstly the history of Tibetan art, its place in Tibetan culture, the teachers and the artists, before we get to the basics, from preparing the painting surface to the measurements, the symbols, the borders—and the conservation. So much in one book that every aspiring artist will want." —Mandala Magazine

"This book contains a wealth of fascinating information about thangkas and the artistic culture of Tibet and affords a rare glimpse into the way of life of the artists themselves. . . . It comes as close as is reasonably possible to providing art students with accurate guidelines to gain at least some skill in the techniques. A work as well researched, clearly presented, and fascinating as this will certainly be enjoyed not only by artists but also by anyone with an interest in Tibetan cultural traditions." —The Tibet Journal 
Advertisement