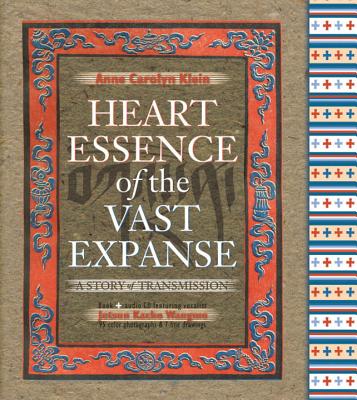 Heart Essence of the Vast Expanse: A Story of Transmission [With CD (Audio)] (Hardcover)
A Story of Transmission [With CD (Audio)]
Snow Lion Publications, 9781559392839, 214pp.
Publication Date: May 16, 2010
* Individual store prices may vary.
or
Not Currently Available for Direct Purchase
Description
Beautiful, evocative, and eminently useful, this rich array of texts chants on CD and images handsomely fills out the practices of the Heart Essence of the Vast Expanse tradition. The foundational practices from the Heart Essence transmission that was revealed by Jigme Lingpa have for over three centuries been one of the most widely practiced and beloved gateways to Dzogchen in Tibet. Like most Tibetan practices, these are chanted in solitary practice or in groups, their words supporting the vision, emotion, and understanding being cultivated. The compilation of texts, story, history, music, and commentaries in this book helps the practitioner more fully understand the elements of practice. And the included chantable English translation matches the meter of the Tibetan original and thus can be sung to the traditional Tibetan melodies that are also part of its transmission. The Heart Essence remains a living tradition. A contemporary lama of this tradition, Adzom Rinpoche, widely regarded in Tibet as an incarnation of Jigme Lingpa, prepared a condensed version of Jigme Lingpa's famous text also included here. The accompanying CD contains the Tibetan and English chanting of both his and Jigme Lingpa's practice texts. In addition, three color-picture sections show images of land and objects sacred to the Heart Essence tradition and also of deities and lamas in the transmission including a section on Adzom Gar, a major twentieth-century seat of this teaching in Kham. This is the first-ever chantable English translation of one of the most beloved and widely used practice texts, the Longchen Nyinthig.
About the Author
Anne C. Klein is professor and chair of Religious Studies at Rice University. She is also a founding director and resident teacher of Dawn Mountain, a center for contemplative study and practice in Houston. Her publications include Path to the Middle (SUNY Press), Unbounded Wholeness, coauthored with Geshe Tenzin Wangyal Rinpoche (Oxford University Press), and Knowledge and Liberation (Snow Lion Publications).
Praise For Heart Essence of the Vast Expanse: A Story of Transmission [With CD (Audio)]…
"From among all the traditions of wisdom teachings in the world, few have been preserved with greater care, devotion, and genuine meditative accomplishment throughout the centuries than the Heart Essence of the Vast Expanse or Longchen Nyingthig, which belongs to Tibet's first Buddhist lineage, the Nyingma School of the early tantric translations. By the kindness of the innumerable great beings of India and Tibet and the good actions and aspirations of those who long for awakening, the legacy of this tradition with all its texts and instructions has survived undiminished to the present even in the face of great challenges. We are now at a crucial phase of continuing this survival: the transplantation of the authentic Buddhadharma to the West. A key aspect of this process involves making the lineages' methods of practice something that Westerners can engage in with full-hearted enthusiasm—in their own languages. I therefore welcome and applaud this most recent effort of the professor who through her extensive experience in practice has made key liturgies of the preliminaries for the Longchen Nyingthig, which are indispensable to the meditation journey of Dzogchen, available in pleasant and inspiring English. This too will result in more opportunities for students to taste in a fresh way the ever-excellent true nature of their own hearts through the blessings of lineage transmission." —The Dzogchen Ponlop Rinpoche, author of Mind beyond Death

"Buddhism tells us that we each have the capacity to access profound wisdom, awareness, and compassion. Heart Essence is a beautiful guide to the openness we need to bring that capacity to life." —Sharon Salzberg, author of Lovingkindness: The Revolutionary Art of Happiness

"Ngondro practice is not merely a prerequisite, it is the path to realizing the great expanse of the Vidyadhara Jigme Lingpa." —Dzongsar Jamyang Khyentse, director of the films The Cup and Travellers and Magicians and author of What Makes You Not A Buddhist

"The amazing verses of this most sacred meditation practice have resounded in monasteries, nunneries, and mountain caves for centuries. They are waves from the spiritual realization of great adepts on the Roof of the World. These have now here been born in English in beautiful poetry and inspiring melodies." —Tulku Thondup, author of The Practice of Dzogchen and Peaceful Death, Joyful Rebirth

"Anne Carolyn Klein has made a precious gift to all practitioners in presenting her beautiful translations of the foundational practices of the Longchen Nyingthig, arguably the most widely practiced cycle of teachings in the Nyingma Tradition together with the original texts. These practices establish the basis for all spiritual progress." —Matthieu Ricard, author of Happiness: How to Cultivate Life's Most Important Skill

"A rare book providing lucid chantable translations of liturgies from a beautiful visionary Treasure cycle. This work is fascinating for what it reveals of the processes by which scripture unfolds and then enters the disciple's life of devotion. Sure to be welcomed by practitioners, the book is also of great interest to students of Buddhist ritual." —Professor Janet Gyatso Hershey, professor of Buddhist Studies, The Divinity School, Harvard University, and author of Apparitions of the Self: The Secret Autobiographies of a Tibetan Visionary

"Klein says that our most vibrant connection with the transmission of teachings from Masters comes when our heart-mind is relaxed and open. One way to achieve this is through rhythmic chanting when the energies of body, speech, and mind are unified in contemplation. Hence this impressive book (with 96 color photographs and 32 line drawings) comes with an mp3-CD featuring the soothing sound waves of devotional chanting by vocalist Jetsun Kacho Wangmo." —Mandala, "Editor's Choice"

"The compilation of texts, story, history, music, and commentaries can help the practitioner understand more fully the elements of practice. Of particular interest might be the English translation using Tibetan meter/rhythm that can be used with the traditional melodies intrinsic to the transmission." —Khandro

"Klein is not only a scholar but also a long-term practitioner in this tradition. Through her extensive experience in practice she has made key liturgies of the preliminaries available in pleasant and inspiring English. These are indispensable to the meditation journey of Dzogchen. The book is clearly for practitioners. . . . The style of the book is very accessible. . . . The volume is essential for Buddhists in the Tibetan tradition, and there are important insights into the nature of transmission itself and the devotional value of chanting that will be of value to others." —Udayan Chakrabarti, The Middle Way  
Advertisement