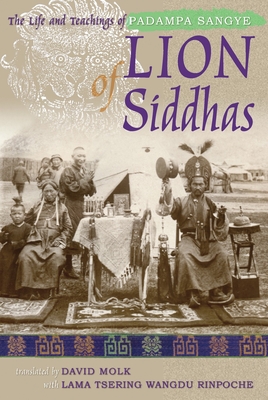 Lion of Siddhas: The Life and Teachings of Padampa Sangye (Paperback)
The Life and Teachings of Padampa Sangye
Snow Lion Publications, 9781559392990, 336pp.
Publication Date: June 1, 2008
Description
Best known as Machig Labdron's teacher, the Indian mahasiddha Padampa Sangye is counted as a lineage guru by all schools of Tibetan Buddhism. He brought the lineage of Chod to Tibet, carried the Buddha's teachings to China, and is even asserted in the Tibetan tradition to have been the legendary Bodhidharma. Padampa Sangye's teaching methods were unorthodox and sometimes extreme. This transcendent and irascible teacher encouraged his disciples to disregard social conventions, disdain social contacts, and go beyond their cultural conditioning. He inspired innumerable highly realized disciples, many of whom were women. "Lion of Siddhas" presents two extraordinary texts: a biography of Padampa Sangye, and a rare collection of his verbal and nonverbal teachings called "Mahamudra in Symbols," recorded by his chief Tibetan disciple almost a thousand years ago. Both are previously untranslated.
About the Author
The illustrious master Padampa Sangye, who taught in Tibet during the eleventh century, created a legacy that spread through all sects and schools of Tibetan Buddhism.
Praise For Lion of Siddhas: The Life and Teachings of Padampa Sangye…
"His teachings can be found today in monasteries and retreat hermitages throughout central Asia, from Mongolia on the north, to Bhutan, Sikkim, and Ladakh on the south, and continue to be practiced with undiminished enthusiasm. My old friend David Molk working with Lama Tsering Wangdu has performed a wonderful service. . . . It is a great read and explodes with the sense and sensibility of the enlightenment dynamic."—Glenn H. Mullin, author of The Dalai Lamas on Tantra

"A rare portrait of an elusive yet important religious figure in Tibetan Buddhism. . . . Offers an entertaining glimpse into the life of a classic tantric iconoclast."—Buddhadharma: The Practitioner's Quarterly

"Padampa Sangye is a charismatic and significant figure in his own right. . . . His eminently quotable teachings reflect a wise and curmudgeonly character who fought complacency and bucked convention."—Tricycle

"Collects two venerable texts in one volume, both skillfully translated into English for the first time. . . . An invaluable reference for Buddhist studies shelves and reference collections. . . . Highly recommended."—Library Bookwatch "This translation effectively presents this Master's legacy from the 11th century, which is still as dynamic and inspiring for current times."—East and West Series
Advertisement