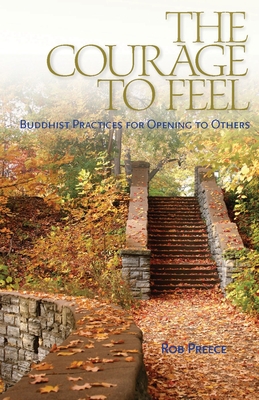 The Courage to Feel: Buddhist Practices for Opening to Others (Paperback)
Buddhist Practices for Opening to Others
Snow Lion Publications, 9781559393331, 152pp.
Publication Date: October 16, 2009
* Individual store prices may vary.
or
Not Currently Available for Direct Purchase
Description
When circumstances are challenging how do we react? This book offers methods to help us develop greater inner strength and openness to life by changing the habit of what Rob Preece calls -self-preoccupation---the tendency to act from a narrow perspective dominated by insecurity and isolation. When we learn to look outside this mentality and truly cherish others as well as ourselves, we create a happier, relaxed mind and more fulfilling relationships, as well as realizing our life's purpose in a meaningful way. A long-time Buddhist practitioner and psychotherapist, Preece shares traditional meditations and practices for awakening the mind and heart, including tonglen, but he also offers a Jungian perspective on these and his own sense--cultivated during many years experience--of the ways in which Westerners may need to re-see these practices to benefit most from them. Preece's insightful fusion of East and West will help readers tap inner resources of compassion and integrity in order to flourish in times of uncertainty, and ultimately generate the altruistic aspiration to realize the awakened mind for the benefit of all living beings. Preece offers meditation practices at the end of many chapters to help the reader digest and integrate the book's information.
About the Author
Rob Preece has been a practicing Buddhist since 1973, principally within the Tibetan tradition. He has spent many years in intensive retreat in the Himalayas under the guidance of eminent Tibetan lamas. Preece has been working as a psychotherapist since 1987 and gives workshops on comparative Jungian and Buddhist psychology. An experienced meditation teacher and thangka painter, he lives in London and is the author of The Wisdom of Imperfection and The Psychology of Buddhist Tantra.
Praise For The Courage to Feel: Buddhist Practices for Opening to Others…
"If you buy just one Buddhist book this year, make it The Courage to Feel."—Glenn Mullin, author of The Practice of Kalachakra

"The beauty of this book is that it requires of the reader that they cease looking through its pages for THE answer and rather engage the dilemma of self-interest and concern for others by living with it, not avoiding it, and striking a balance. . . . A testament to a harmonious awakening."—New Age Retailer


"Far from didactic, this book helps us discover the joys of exchanging self with others and repaying the kindness. True happiness lies in learning to look outside ourselves. There are useful meditation practices at the end of each chapter."—Mandala Magazine

The Courage to Feel presents both traditional Buddhist meditations and practices for awakening the mind ,such as tonglen and also a Jungian perspective, that suggests how Westerners may need to re-evaluate how they can benefit the most from these activities. An invaluable blend of the wisdom, helpful insights, and self-improvement practices of East and West. Highly recommended."—Wisconsin Bookwatch

"This book has brought traditional Buddhist practices alive, translating them into these times and the personal and collective psyche into which we are born. This book is essential reading for those who want to engage with the deeper questions of meaning, as well as a resource for meditators, counselors, and psychotherapists."—Maura Sills, co-founder and director of the Karuna Institute

"Offers step-by-step Buddhist practices to awaken the mind and heart, leading to a close connection to others and a more joyful fulfilled life. It is also a guide to freeing oneself from what Preece refers to as 'self-preoccupation.'"—Eastern Horizon

"In fourteen chapters, Preece develops an ennobling path for 'reorientation of the whole of an individual's direction and meaning in life.' He writes assuredly and compellingly of a life hell-bent on loving others."—ForeWord

"Bridges the two worlds of Western depth psychology and Tibetan Buddhist meditation. In the realm of Buddhist books, this is a relatively recent and welcome development. . . . [It] draw[s] comparisons between Western psychotherapeutic wisdom—Carl Jung's insights in particular—and beneficent Buddhist thought. . . . Refreshing in its frankness about the need to face our foibles."—Bohemian Buddhist Review

"An inspiring practice manual based on the Buddhist meditations on developing loving kindness and great compassion, written by an experienced practitioner and psychotherapist. The book offers guidance on how to develop inner strength and happiness by changing the normal mode of 'self preoccupation' to that of opening to others."—Yoga and Health
Advertisement