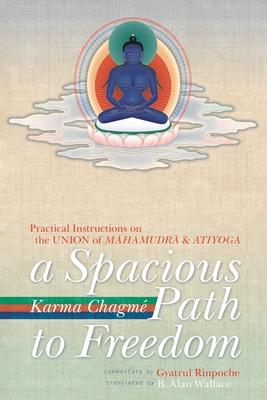 A Spacious Path to Freedom: Practical Instructions on the Union of Mahamudra and Atiyoga (Paperback)
Practical Instructions on the Union of Mahamudra and Atiyoga
Snow Lion Publications, 9781559393409, 240pp.
Publication Date: February 16, 2010
Description
This manual of Tibetan meditation simply and thoroughly presents the profound Dzogchen and Mahamudra systems of practice. Karma Chagmé sets forth the stages of meditation practice, including the cultivation of meditative quiescence and insight, the experiential identification of awareness, and the highest steps of Mahamudra and Atiyoga, leading to perfect enlightenment in one lifetime. Drawing from his enormous textual erudition and mastery of Tibetan oral traditions, he shows how these two meditative systems can be unified into a single integrated approach to realizing the ultimate nature of consciousness.
About the Author
Karma Chagme was a major lineage-holder of the Karma Kagyu tradition of Tibetan Buddhism, and his writings have also become central to the Payul Nyingma order, making him an ideal figure to integrate two of the great meditation systems of Tibet: Mahamudra and Atiyoga.
Praise For A Spacious Path to Freedom: Practical Instructions on the Union of Mahamudra and Atiyoga…
"An incomparable introduction to the actual practice of higher meditative instructions."—Tibet Journal

"Get[s] right into fairly advanced instructions on meditation. . . . Most chapters are in classic Tibetan fashion almost entirely comprised of quotations from scripture and earlier masters. Gyatrul Rinpoche's informative commentary is the clear voice that pulls the book together."—Buddhadharma: The Practitioner's Quarterly

"Karma Chagmé applies his extensive experience and familiarity with Tibetan oral traditions to reveal how these two meditative systems can be integrated into a single approach."—Midwest Book Review
Advertisement