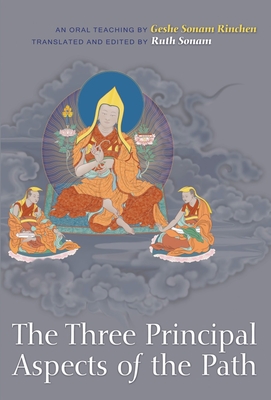 The Three Principal Aspects of the Path: An Oral Teaching (Paperback)
An Oral Teaching
Snow Lion Publications, 9781559393508, 160pp.
Publication Date: June 1, 2010
Description
The wish for freedom, the altruistic intention, and the wisdom realizing emptiness constitute the essence of the Buddhist path. In this teaching, Geshe Sonam Rinchen explains, in clear and readily accessible terms, Je Tsongkhapa's (1357-1419) famed presentation of these three essential topics.
About the Author
Geshe Sonam Rinchen (1933-2013) studied at Sera Je Monastery and in 1980 received the Lharampa Geshe degree. He taught Buddhist philosophy and practice at the Library of Tibetan Works and Archives in Dharamsala, India, as well as in dharma centers around the world.
Praise For The Three Principal Aspects of the Path: An Oral Teaching…
"This quintessential teaching of the three principles straight from the bodhisattva Manjushri via Jey Tsong Khapa is beautifully translated and insightfully elucidated in this little jewel of a book. I hugely enjoyed it and recommend it wholeheartedly to anyone who wants to understand the practice the Buddha Dharma." —Robert Thurman, author of Why the Dalai Lama Matters

"A perfect introduction to Mahayana Buddhist practice! Geshe Sonam Rinchen gives us a concise and authoritative guide to the heart of the bodhisattva path. Replete with vivid teaching stories from traditional Tibet and the tough-love proverbs of the Kadampa masters, the volume also includes a clear edition and translation of Tsong-kha-pa's 14-verse root text." —Guy Newland, author of Introduction to Emptiness

"This oral commentary by Geshe Sonam Rinchen is perhaps the most complete comprehensive and clear explanation I have read. He has brought to bear a huge depth of experience and an extensive knowledge of Buddhist teachings to create a rich and inspiring illumination of the root text. This is an invaluable resource for anyone wishing to deepen their understanding of the essential foundations of Tibetan Buddhist psychology and practice." —Rob Preece, author of The Courage to Feel and The Wisdom of Imperfection

"Sonam has captured the storytelling tone that makes good teachers so popular ('don't listen like a pot which has been turned upside down'). Geshe Rinchen's years of experience teaching Westerners makes the text very accessible without compromising its integrity. His depth of wisdom makes this a valuable book for the seasoned Buddhist as well." —Anna Jedrziewski, New Age Retailer

"Extensive and concise. . . . This volume is very understandable and is a great discourse for beginner and advanced practitioners alike. . . . Geshe Rinchen has  has done a fantastic job and given us a true gem of a book to learn from. . . . [A] sensational discourse on one of the most important teachings in Tibetan Buddhism. Highly recommended!" —Nate DeMontigny, Precious Metal

"As any practitioner quickly realizes, as soon as we are faced with the real world, even the straightest path to enlightenment is riddled with potholes and roadblocks, not to mention those confusing road signs that seem designed to discourage us wholly from the pursuit of compassion. . . . It's a rocky road for anyone to traverse, but the going is made easier by masters like Geshe Sonam Rinchen who elucidate the wisdom and inspire us on our journey. . . . [A] beautifully produced volume. . . . Rinchen's attentive exploration touches on specific areas within the text that may be overlooked even by those who are deeply familiar with it . . . his approach is humble and firm. . . . Geshe Rinchen's unique and clear approach to The Three Principal Aspects of the Path is accessible for beginners while also providing thoughtful advancement for more experienced students." —DeborahAdams, Elevate Difference 
Advertisement