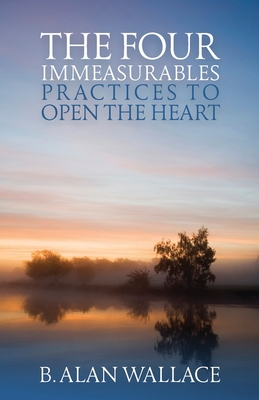 The Four Immeasurables: Practices to Open the Heart (Paperback)
Practices to Open the Heart
Snow Lion Publications, 9781559393539, 186pp.
Publication Date: September 16, 2010
Description
The Four Immeasurables—the cultivation of loving-kindness, compassion, empathetic joy, and equanimity—is a rich suite of practices that open the heart, counter the distortions in our relationships to ourselves, and deepen our relationships to others. Alan Wallace presents a unique interweaving of teachings on the Four Immeasurables with instruction on meditative quiescence, or shamatha practice, to empower the mind. This book includes both guided meditations and lively discussions on the implications of these teachings for our life.
About the Author
B. Alan Wallace has authored, translated, edited, and contributed to more than forty books on Tibetan Buddhism, science, and culture. With fourteen years as a Buddhist monk, he earned a BA in physics and the philosophy of science and then a PhD in religious studies. After teaching in the Department of Religious Studies at the University of California, Santa Barbara, he founded the Santa Barbara Institute for Consciousness Studies to explore the integration of scientific approaches and contemplative methods.
Praise For The Four Immeasurables: Practices to Open the Heart…
"Alan Wallace is one of the great Western Buddhist thinkers of our day."—Howard Cutler M.D., coauthor with H.H. the Dalai Lama of The Art of Happiness

"A one-of-a-kind book that helps educate as well as inspire."—Inquiring Mind

"Any person on a spiritual path, Buddhist or not, will find in this book fresh practical insights for cultivating a boundless heart. A thought-provoking, useful, encouraging read."— ForeWord Magazine

"We are in very good hands when Alan Wallace takes us on a journey with the four immeasurables."—Mandala, Editor's Choice

"This book is written in a very simple and direct style. It always cuts out the superficial and directs the reader to the heart of the practice. Interspersed are numerous personal anecdotes and insights that could only be gathered from a lifetime of practice and teaching."—The Middle Way

"This in-depth treatment is presented clearly and directly without unnecessary trappings and will be a good choice for customers looking to begin serious study of Buddhist tradition and practice. It includes guided meditations intended to help readers open their hearts and empower their minds."—New Age Retailer

"This rich psychological unfolding of these spiritual practices provides a fine capstone to the author's thoughts on meditation."—Spirituality & Practice

"As is usual with books by Alan Wallace, there is a strong emphasis on making the ideas and practices discussed accessible to modern readers without diluting those ideas or dumbing them down. A determination to show how the four immeasurables are to be applied in practice in our lives is also evident. For anyone who wishes to a read a lively presentation of some central ideas within Buddhism and that achieves the difficult balance of being both traditional and modern in approach, this book will not disappoint."—Buddhism Now
Advertisement