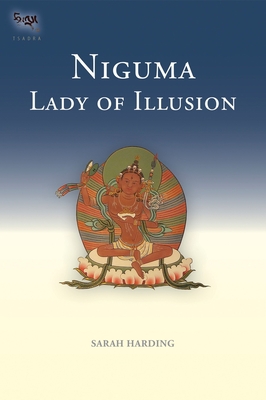 Niguma, Lady of Illusion (Hardcover)
Snow Lion Publications, 9781559393614, 373pp.
Publication Date: January 16, 2011
Description
Providing a rare glimpse of feminine Buddhist history, Niguma, Lady of Illusion brings to the forefront the life and teachings of a mysterious eleventh-century Kashmiri woman who became the source of a major Tibetan Buddhist practice lineage. The circumstances of her life and extraordinary qualities ascribed to her are analyzed in the greater context of spiritual biography and Buddhist doctrine. More than a historical presentation, Niguma's story raises the question of women as real spiritual leaders versus male images of feminine principle and other related contemporary issues. This volume includes the thirteen works that have been attributed to Niguma in the Tibetan Buddhist canon. These collected works form the basis of an ancient lineage Shangpa, which continues to be actively studied and practiced today. These works include the source verses for such esoteric practices as the Six Yogas, the Great Seal, and the Chakrasamvara and Hevajra tantric practices that are widespread in Tibetan traditions. Also included is the only extant biography, which is enhanced by the few other sources of information on her life and work.
About the Author
Sarah Harding has been a Tibetan Buddhist translator and practitioner since 1974. She became a student of the late master Kalu Rinpoche, and in 1980, she completed the traditional three-year retreat under his guidance. Since then, she has been a teacher and translator. Her publications include Machik's Complete Explanation, The Treasury of Knowledge: Book Eight, and The Life and Revelations of Pema Lingpa. She is a fellow at the Tsadra Foundation and has been on the faculty of Naropa University for nearly twenty years.
Praise For Niguma, Lady of Illusion…
"Such an important historical female figure as Niguma has been obscured by centuries of overlaid mythology, but now Sarah Harding has skillfully managed to separate the wheat from the chaff and to reveal something of the woman behind the legend, along with her place in the Shangpa tradition and her fascinating writings on Yoga."—Jetsunma Tenzin Palmo, author of Reflections on a Mountain Lake


"Sarah Harding's fascinating account of the literature surrounding Niguma, heiress of unimaginable qualities, provides a rare glimpse into the life of a legendary female practitioner who traces the source of her wisdom lineage directly to Vajradhara the epitome of awakening. The collected works and biography are gems of insight into the spiritual journey of this elusive figure whose realization culminates in the perfection of timeless awareness and an illusory rainbow body. Deftly written, the account is a treasure trove of information about tantric practices and attainments focused especially on the nature and power of illusion. Harding's attempts to separate the flesh-and-blood woman from the idealized dakini make for an engaging, often amusing read for neophytes and experienced practitioners alike. Of special relevance to those who happen to be women this time around."—Karma Lekshe Tsomo, editor of Buddhism through American Women's Eyes
Advertisement