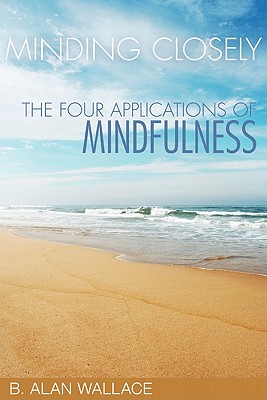 Minding Closely: The Four Applications of Mindfulness (Paperback)
The Four Applications of Mindfulness
Snow Lion Publications, 9781559393690, 350pp.
Publication Date: July 16, 2011
Description
Bringing his experience as a monk, scientist, and contemplative, Alan Wallace offers a rich synthesis of Eastern and Western traditions along with a comprehensive range of meditation practices interwoven throughout the text. The guided meditations are systematically presented, beginning with very basic instructions, which are then gradually built upon as one gains increasing familiarity with the practice.
About the Author
B. Alan Wallace has authored, translated, edited, and contributed to more than forty books on Tibetan Buddhism, science, and culture. With fourteen years as a Buddhist monk, he earned a BA in physics and the philosophy of science and then a PhD in religious studies. After teaching in the Department of Religious Studies at the University of California, Santa Barbara, he founded the Santa Barbara Institute for Consciousness Studies to explore the integration of scientific approaches and contemplative methods.
Praise For Minding Closely: The Four Applications of Mindfulness…
"Its ingenious structure combines theoretical and philosophical discussions with guided meditations, leading readers simultaneously into deeper understandings and experiences of mindfulness. Wallace's writing is clear and often informal, providing readers with personal insights and reflections from an experienced meditator who is also a scholar. An impressive feature of this volume is that it allows those with little prior exposure to Buddhism to gain a solid introduction to numerous core Buddhist concepts and terms without the process seeming arduous. As a popular introduction to Buddhist traditions of mindfulness, this volume is superb and useful as background reading for any student of Buddhism. The exercises are especially valuable."—Choice 

"A comprehensive and rich teaching that combines skillful instruction and scholarly knowledge. Minding Closely draws on wisdom from both Theravada and Vajrayana traditions to offer a systematic and practical approach to liberation through mindfulness."—Jack Kornfield, author of The Wise Heart 
Advertisement