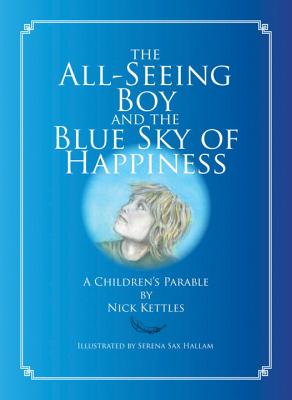 The All-Seeing Boy and the Blue Sky of Happiness: A Children's Parable (Hardcover)
A Children's Parable
Snow Lion Publications, 9781559393713, 26pp.
Publication Date: December 13, 2011
* Individual store prices may vary.
or
Not Currently Available for Direct Purchase
Description
The All-Seeing Boy believed that there must be a way to make people happy. Then he met the mysterious hobo Jason Carper Esquire who taught him about the blue sky of happiness . . . and our inherent, somewhat magical ability to bring happiness to others. 
About the Author
Nick Kettles has been published in journals such as The Ecologist, Resurgence, and Wired, as well as in The Times, The Independent, and The Observer newspapers in the United Kingdom. He has also coproduced documentaries for BBC Radio. He lives near the French Pyrenees with his partner, Priya, two daughters, and many animals.
Praise For The All-Seeing Boy and the Blue Sky of Happiness: A Children's Parable…
"His Holiness is happy to have a copy of your book The All-Seeing Boy and the Blue Sky of Happiness. His Holiness likes the story and hopes it will help to spread the message of loving-kindness among the readers. His Holiness sends his appreciation and gratitude to you and your colleagues for this wonderful piece of work." —Office of H. H. the Dalai Lama

"Charming and insightful. Recommended for adults, teenagers, and children." —William Bloom, author of Soulution the Holistic Manifesto

"Bravo! A wonderful piece of writing." —Carl Honore, author of In Praise of Slowness

"A wonderful work that I believe is going to touch every child's heart and consciousness." —Dr. Aretoula Fullam, The Silva Method of New Jersey

"The All Seeing Boy and the Blue Sky of Happiness is a wonderful book and what's more, it works!" —Dr. Susie Anthony, author of A Map to God

"This charming children's story explores loving-kindness. Our protagonist, the All-Seeing Boy, has an ordinary, mostly happy life, but when the people he loves feel sad, he wants to help them. He is convinced that there is really something he can do if only he can figure out what it is. Then one day he meets a hobo named Jason Carper Esquire. This hobo has bright blue eyes, a ruby-red coat, and the answer the boy has been looking for." —Shambhala Sun

"The Blue Sky meditation is such a simple way to practice mindfulness and compassion." —Anna Jedrziewski, New Age Retailer

"British journalist Nick Kettles spins a sweet tale of discovery and compassion in his new 32-page illustrated children's book. . . . In Kettles's book the hobo describes for the All-Seeing Boy the thing that he can do to help others; he teaches him about blue sky thoughts. While not explicitly described as such, the hobo gives the All-Seeing Boy a meditation practice. The child-friendly Blue Sky of Happiness meditation is a simple, gentle visualization that anyone can do to help others feel better."--Michael Jolliffe, Mandala Magazine

"A story well told, beautifully illustrated, with a wonderful message of how our love and compassion can change the world for everyone. —Light of Consciousness magazine

"This charming teaching-tale is aimed at children aged six to ten but will have appeal to adults as well. The All-Seeing Boy is a thinker who hears the Universe calling to him. When the student is ready, the teacher will come. In this case the teacher is a hobo sitting outside a thrift store. Through him the All-Seeing Boy finds the correct questions to ask in order to gain access to the mysteries. It's a classic psycho-spiritual tale, which resonates across religious denominations. The Blue Sky meditation is such a simple way to practice mindfulness and compassion." —Anna Jedrziewski, New Age Retailer

"A beautiful book that shows real compassion for others at its heart. It makes a special goodness-creating gift for any child." —The Midwest Book Review
Advertisement