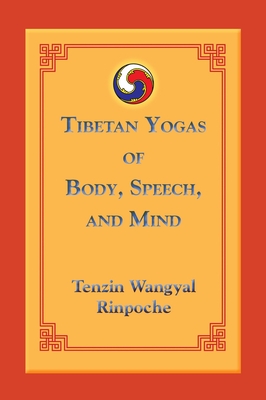 Tibetan Yogas of Body, Speech, and Mind (Paperback)
Snow Lion Publications, 9781559393805, 233pp.
Publication Date: November 16, 2011
Description
Understanding how our actions words and thoughts interact enhances our ability to progress in spiritual practice and brings us closer to self-realization. In a warm informal style Tenzin Wangyal Rinpoche opens up Tibetan meditation practice to both beginners and experienced students placing as much emphasis on practice as on knowledge. Depending on the sources of the problems in our lives he offers practices that work with the body speech or the mind--a collection of Tibetan yoga exercises visualizations, sacred sound practices, and spacious meditations on the nature of mind. Together he says knowledge and regular meditation practice can alter our self-image and lead to a lighter more joyful sense of being. The stillness of the body the silence of speech and the spacious awareness of mind are the true three doors to enlightenment.
About the Author
Tenzin Wangyal Rinpoche, a lama in the Bon tradition of Tibet, presently resides in Charlottesville, Virginia. He is the founder and director of Ligmincha Institute, an organization dedicated to the study and practice of the teachings of the Bon tradition. He was born in Amritsar, India, after his parents fled the Chinese invasion of Tibet and received training from both Buddhist and Bon teachers, attaining the degree of Geshe, the highest academic degree of traditional Tibetan culture. He has been in the United States since 1991 and has taught widely in Europe and America.
Praise For Tibetan Yogas of Body, Speech, and Mind…
"In clear and lucid language, Tenzin Wangyal Rinpoche offers an amazingly rich array of traditional practices which, when practiced with a skilled teacher, can powerfully transform body, speech, and mind."—Jack Kornfield, author of A Path with Heart

"Traditional as well as innovative this book—a complement to his other work and also outstanding on its own—opens to supremely important narratives descriptions and exercises to introduce us most deeply to our own bodies."—Anne Carolyn Klein Rice, author of Heart Essence of the Vast Expanse: a Story of Transmission.

"Rinpoche does a great service in making these ancient and powerful teachings available to all of us.This insightful and practical book is an invaluable resource."—Sharon Salzburg author of Real Happiness


"With integrity and deep fidelity to these pinnacle teachings, Tenzin Wangyal shows us in very practical ways how we can touch our own depths and unlock the peace, confidence, warmth, and joy that lie within us all just beneath the surface."—Reginald Ray, author of Touching Enlightenment

"Tenzin Wangyal Rinpoche's latest book Tibetan Yogas of Body Speech and Mind (Snow Lion 2011) gives readers practical exercises from the Tibetan Bön tradition for working with and transforming what he calls "pain body," "pain speech," and "pain mind." Treating each of these distinct domains of the individual as a whole the author introduces practices of physical movement for the body healing sounds and mantra for the speech and visualizations and breathing techniques for the mind. This is done with a delicate balance of Bön Dzogchen technical terms such as the "body of light" and "nine pranas" juxtaposed with the author's anecdotes and analogies. For instance Tenzin Wangyal writes how Micky Rourke's character Randy "The Ram" in the film The Wrestler exemplifies someone characterized by the "pain body." The book contains numerous instructive photos, tables, and figures."—Buddhadharma
"Bön Master Tenzin Wangyal Rinpoche's Tibetan Yogas of Body Speech and Mind shows readers a variety of teachings and practices related to these three doors to enlightenment. Among highlights are: Dzogchen practices to achieve the body of light, mantras that provide healing through sounds, and energy practices to enhance clarity of mind. Some of the most compelling reading is provided by his discussion of sound. A chapter on speech includes teachings that range from the readily accessible..."Whether, physically, energetically, or psychologically, we experience ourselves mainly through our pain," Rinpoche writes.And because it is so familiar it becomes an important door through which we discover our bigger self—and through this discovery release our pain."—Tricycle
Advertisement