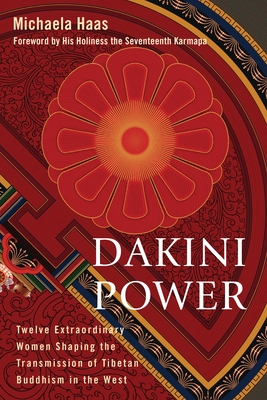 Dakini Power (Paperback)
Twelve Extraordinary Women Shaping the Transmission of Tibetan Buddhism in the West
Snow Lion, 9781559394079, 344pp.
Publication Date: April 9, 2013
* Individual store prices may vary.
Description
How 12 Tibetan Buddhist Teachers Succeed in Merging East and West - including Pema Chödrön, Joan Halifax, and Thubten Chodron, among others

Personal reflections and life stories from 12 contemporary female Tibetan Buddhist teachers, both Westerners and Tibetans, who share insights into how they discovered their true calling, overcame barriers, and developed the courage, determination, and wisdom to progress on the spiritual path.

What drives a young London librarian to board a ship to India, meditate in a remote cave by herself for twelve years, and then build a flourishing nunnery in the Himalayas? How does a surfer girl from Malibu become the head of the main international organization for Buddhist women? Why does the daughter of a music executive in Santa Monica dream so vividly of peacocks one night that she chases these images to Nepal, where she finds the love of her life in an unconventional young Tibetan master?

The women featured in Dakini Power—contemporary teachers of Tibetan Buddhism, both Asians and Westerners, who teach in the West—have been universally recognized as accomplished practitioners and brilliant teachers whose life stories demonstrate their immense determination and bravery. Meeting them in this book, readers will be inspired to let go of old fears, explore new paths, and lead the lives they envision.

Featured here are:

   • Jetsun Khandro Rinpoche (This Precious Life)
   • Dagmola Sakya (Princess in the Land of Snows)
   • Jetsun Tenzin Palmo (Diane Perry) (Into the Heart of Life)
   • Pema Chödrön (Deirdre Blomfield-Brown) (When Things Fall Apart; Start Where You Are)
   • Khandro Tsering Chödron (most familiar to readers as the late aunt of Sogyal Rinpoche, author of The Tibetan Book of Living and Dying)
   • Thubten Chodron (Cherry Greene) (Buddhism for Beginners; Taming the Mind)
   • Karma Lekshe Tsomo (Patricia Zenn) (Buddhism Through American Women 's Eyes)
   • Chagdud Khadro (Jane Dedman) (P 'howa Commentary; Life in Relation to Death)
   • Sangye Khandro (Nanci Gay Gustafson) (Meditation, Transformation, and Dream Yoga)
   • Roshi Joan Halifax (Being with Dying)
   • Lama Tsultrim Allione (Joan Rousmanière Ewing) (Women of Wisdom; Feeding Your Demons)
   • Elizabeth Mattis-Namgyel (The Power of an Open Question)
About the Author
Michaela Haas, PhD, is a reporter, lecturer, and consultant. She is the founder of Haas live! Communication Coaching Consulting, an international coaching company that specializes in media and mindfulness training for business leadersand media professionals. She is also a TV host, interviewer, and documentary filmmaker who has hosted numerous successful live talk shows and political broadcasts in Germany. She has been studying and practicing Buddhism for twenty years, has a PhD in Asian Studies, and is a visiting scholar in Religious Studies at the University of California Santa Barbara. Haas divides her time between Malibu, California, and Munich, Germany.
Praise For Dakini Power: Twelve Extraordinary Women Shaping the Transmission of Tibetan Buddhism in the West…
"The twelve women profiled in Michaela Haas's book form a circle that radiates in countless ways. Taken as a whole, their lives document both the continuing emergence of Tibetan Buddhism in the West and the concurrent work towards women's inclusion in arenas of practice and leadership where they have historically been marginalized and excluded. Dakini Power is an inspiring contribution to the ongoing conversation."—Sharon Salzberg, author of Lovingkindness and Real Happiness

"What a moving and powerful book! With passion and verve, these remarkable women bear witness to the fact that the buddhadharma has put down firm roots in the West. Michaela Haas has done a superb job of presenting their struggles and their realization in a way that makes them an inspiration to men and women alike."—B. Alan Wallace, author of Boundless Heart and Choosing Reality

"Apart from a few rare hagiographies of ancient Tibetan yoginis, there is a dearth of information about accomplished Buddhist women practitioners. Michaela Haas's Dakini Power addresses this historical oversight by profiling the lives of twelve dynamic contemporary female pioneers—from Tibet and the West—who, in spite of few role models, have overcome challenging gender-based situations, become internationally respected teachers, and set new standards for actualizing compassion in the twenty-first century. Beautifully written, pertinent to the times, Dakini Power is a study in courage and perseverance and a much-needed contribution to modern Buddhist literature."—Mikel Dunham, author of Buddha's Warriors and Caught in Nepal

"Dakini Power is a pilgrimage into the exemplary lives of twelve women. The journey throughout the book is like the dakinis themselves, spacious and wise, caressing and sometimes wrathful. Michaela Haas has skillfully amplified these women's voices, bringing to us their penetrating insights about the spiritual path, as well as their timely considerations on sexuality and sexism. Spiritual biographies are meant to inspire practitioners, and Dakini Power does just that!"—Matteo Pistono, author of In the Shadow of the Buddha

"Despite pronounced male dominance in both Buddhism in general and Tibetan Buddhism, many women find Buddhist teachings liberating and confirming. With Buddhism coming to the West, the situation for women is changing significantly as women become Buddhist teachers and leaders. This book provides vivid portraits of twelve women teachers, some Tibetan and some Western, who are fostering this change. A welcome addition to the literature on women and Buddhism."—Rita M. Gross, author of Buddhism After Patriarchy and Soaring and Settling

"For centuries, women have been a major contributor to the development and progress of both the mundane and spiritual communities. In fact, they make up fifty percent of the world's population, yet they receive very little recognition. For a long time, we have only heard the male voice in a choir, it is now time to have the female voice too. Dr. Michaela Haas's impressive presentation on the struggles and achievements of female practitioners is a wonderful encouragement for anyone facing challenges on the spiritual path, and for the advocates of gender equality."—The Gyalwang Drukpa