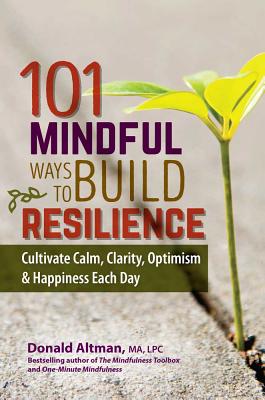 101 Mindful Ways to Build Resilience
Cultivate Calm, Clarity, Optimism & Happiness Each Day
Paperback

* Individual store prices may vary.
Description
Did you ever wish you knew the secret to bouncing back from life's toughest roadblocks, wounds, and obstacles? According to psychotherapist, international mindfulness teacher, and former Buddhist monk Donald Altman, there is no secret. There is simply the skill of applying mindfulness to whatever new problem knocks on your door each day. It works because mindfulness rewires your brain and dramatically changes your relationship to the problem.

The 101 mindfulness 'tools' in this book will give you newfound hope, optimism, and strength. These are simple, yet powerful mindfulness practices that you can apply in just a minute or two -- whether you're facing something extremely annoying or seemingly insurmountable. Those you know may think you've found a secret elixir to wash away your problems. But you'll know the secret is just retraining your brain with 101 Mindful Ways to Build Resilience.
PESI Publishing & Media, 9781559570466, 130pp.
Publication Date: January 1, 2016