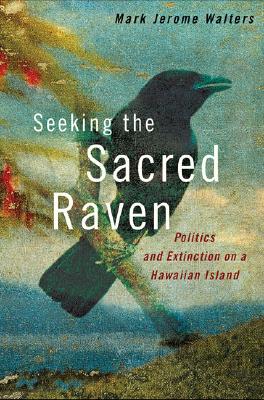 Seeking the Sacred Raven (Hardcover)
Politics and Extinction on a Hawaiian Island
Island Press, 9781559630900, 304pp.
Publication Date: June 7, 2006
* Individual store prices may vary.
Description
Will the 'Alala ever return to the wild? A bird sacred to Hawaiians and a member of the raven family, the 'Alala today survives only in captivity. How the species once flourished, how it has been driven to near-extinction, and how people struggled to save it, is the gripping story of Seeking the Sacred Raven.

For years, author Mark Jerome Walters has tracked the sacred bird's role in Hawaiian culture and the indomitable 'Alala's sad decline. Trekking through Hawaii's rain forests high on Mauna Loa, talking with biologists, landowners, and government officials, he has woven an epic tale of missed opportunities and the best intentions gone awry. A species that once numbered in the thousands is now limited to about 50 captive birds.

Seeking the Sacred Raven is as much about people and culture as it is about failed policies. From the ancient Polynesians who first settled the island, to Captain Cook in the 18th century, to would-be saviors of the 'Alala in the 1990s, individuals with conflicting passions and priorities have shaped Hawaii and the fate of this dwindling cloud-forest species.

Walters captures brilliantly the internecine politics among private landowners, scientists, environmental groups, individuals and government agencies battling over the bird's habitat and protection. It's only one species, only one bird, but Seeking the Sacred Raven illustrates vividly the many dimensions of species loss, for the human as well as non-human world.
About the Author
Trained in veterinary medicine and journalism, Mark Jerome Walters is author of the widely acclaimed books A Shadow and a Song and Six Modern Plagues and How We Are Causing Them. A contributing editor of Orion magazine, his work has appeared in Audubon, Reader's Digest, and numerous other publications. Walters is currently a professor of journalism and media studies at the University of South Florida. He lives on Florida's Gulf Coast.
 
Praise For Seeking the Sacred Raven: Politics and Extinction on a Hawaiian Island…
"Author Mark Jerome Walters traces the last-ditch efforts to save the wild alala, revealing the turf wars, bungled science, and, crucially, habitat loss that hastened its decline...It's a lesson that may be learned too late for the alala, but perhaps not for other species on the brink of extinction."
— Utne Reader
"Beautiful prose brings to life a bygone culture and evokes the old magic of the high forests: the story of change is almost unbearably poignant."
— Jane Goodall, Founder of the Jane Goodall Institute and U.N. Messenger of Peace
"With passion and eloquence, Mark Jerome Walters chronicles the tragic history of a bird the ancient Polynesians revered as a spirit guide, leading souls safely into the afterlife. Sadly, he may be taking on that role for the 'alalã in this remarkable book."

— Tim Gallagher, author of "The Grail Bird: Hot on the Trail of the Ivory-billed Woodpecker"
or
Not Currently Available for Direct Purchase