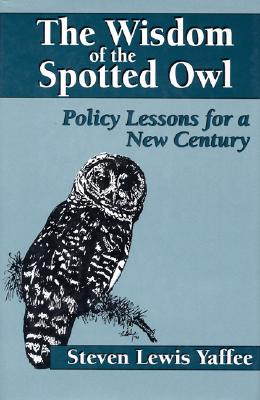 The Wisdom of the Spotted Owl (Paperback)
Policy Lessons For A New Century
Island Press, 9781559632041, 458pp.
Publication Date: April 1, 1994
* Individual store prices may vary.
About the Author
Steven L. Yaffee is Professor of Natural Resources and Environmental Policy at the University of Michigan. He has worked for more than forty years on federal endangered species, public lands and ecosystem management policy and is the author or coauthor of four books: Prohibitive Policy: Implementing the Federal Endangered Species Act (MIT Press 1982); The Wisdom of the Spotted Owl: Policy Lessons for a New Century (Island Press 1994); Ecosystem Management in the United States: An Assessment of Current Experience (Island Press 1996); and Making Collaboration Work: Lessons from Innovation in Natural Resources Management (Island Press 2000). A native of Washington, DC, he spent his youth hearing stories about public policy and politics while experiencing firsthand the loss of native habitat associated with urban sprawl; ultimately, that led to an interest in improving the process of decision making so that more environmentally sound decisions can be made. He has facilitated numerous collaborative processes across North America, and assisted a set of philanthropic foundations with ways to develop evaluation metrics for their conservation programs. He is currently working on a new book detailing the history and lessons of the California marine protected areas designation process. Dr. Yaffee received his PhD in environmental policy and planning from the Massachusetts Institute of Technology. His undergraduate and master's degrees are in natural resource management and policy from the University of Michigan. He has been a faculty member at the Kennedy School of Government at Harvard University and a researcher at the Oak Ridge National Laboratory and the World Wildlife Fund.
or
Not Currently Available for Direct Purchase