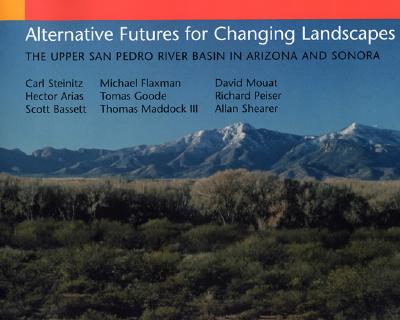 Alternative Futures for Changing Landscapes (Paperback)
The Upper San Pedro River Basin In Arizona And Sonora
Island Press, 9781559632249, 200pp.
Publication Date: January 1, 2003
Other Editions of This Title:
Hardcover (1/1/2003)
* Individual store prices may vary.
Description
Leading landscape architect and planner Carl Steinitz has developed an innovative GIS-based simulation modeling strategy that considers the demographic, economic, physical, and environmental processes of an area and projects the consequences to that area of various land-use planning and management decisions. The results of such projections, and the approach itself, are known as "alternative futures."
Alternative Futures for Changing Landscapes presents for the first time in book form a detailed case study of one alternative futures project—an analysis of development and conservation options for the Upper San Pedro River Basin in Arizona and Sonora, Mexico. The area is internationally recognized for its high levels of biodiversity, and like many regions, it is facing increased pressures from nearby population centers, agriculture, and mining interests. Local officials and others planning for the future of the region are seeking to balance the needs of the natural environment with those of local human communities.
The book describes how the research team, working with local stakeholders, developed a set of scenarios which encompassed public opinion on the major issues facing the area. They then simulated an array of possible patterns of land uses and assessed the resultant impacts on biodiversity and related environmental factors including vegetation, hydrology, and visual preference. The book gives a comprehensive overview of how the study was conducted, along with descriptions and analysis of the alternative futures that resulted. It includes more than 30 charts and graphs and more than 150 color figures.
Scenario-based studies of alternative futures offer communities a powerful tool for making better-informed decisions today, which can help lead to an improved future. Alternative Futures for Changing Landscapes presents an important look at this promising approach and how it works for planners, landscape architects, local officials, and anyone involved with making land use decisions on local and regional scales.
About the Author
Carl Steinitz is the Alexander and Victoria Wiley Professor of Landscape Architecture and Planning at the Harvard University Graduate School of Design.
Hector Manuel Arias Rojo is vision and planning officer for the World Wildlife Fund Gulf of California Program.
Scott Bassett is post-doctoral fellow at the Desert Research Institute in Reno, Nevada.
Michael Flaxman is lecturer at the Harvard University Graduate School of Design.
Tomas Goode is consulting groundwater hydrologist with HydroSystems Inc., in Tempe, Arizona.
Thomas Maddock III is professor of hydrology and water resources at the University of Arizona and co-director of the Research Laboratory for Riparian Studies.
David Mouat is associate research professor at the Desert Research Institute in Reno, Nevada.
Richard Peiser is the Michael D. Spear Professor of Real Estate Development at the Harvard University Graduate School of Design.
Allan Shearer is research fellow at Harvard University.
or
Not Currently Available for Direct Purchase