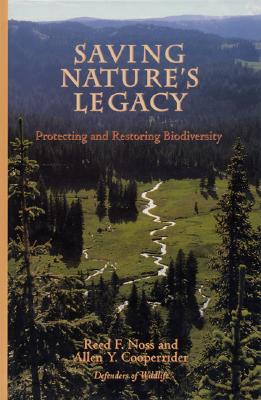 Saving Nature's Legacy
Protecting And Restoring Biodiversity
Hardcover

* Individual store prices may vary.
Other Editions of This Title:
Paperback (4/1/1994)
Island Press, 9781559632478, 443pp.
Publication Date: April 1, 1994
About the Author
Reed Noss is the Davis-Shine Endowed Professor at the University of Florida. Noss is focused on systematic conservation planning at regional to continental scales. He has designed and directed such studies in Florida, the Pacific Northwest, California, the Rocky Mountains, and several regions of Canada, and has been an advisor to similar projects throughout North America and parts of Latin America and Europe. This work seeks to identify areas requiring protection from development and to devise management policies, approaches, and techniques that will maintain the biodiversity and ecological values of these areas and entire landscapes over time. Noss has helped to pioneer methods of integrating population viability analysis into reserve selection algorithms. He currently focuses on fire ecology, forest and grassland restoration and management, the Florida Grasshopper Sparrow and its dry prairie habitat, Florida Scrub-Jays, and the Florida Panther. An emerging theme is the responses of species (especially vertebrates) and ecological processes to environmental conditions along urban-wildland gradients. Road ecology (e.g., responses of wildlife to roads and the design of wildlife crossings and barriers to minimize impacts) and movement ecology (e.g., corridors and connectivity) figure prominently in this research theme.
Allen Y. Cooperrider has been a consultant in conservation biology with Big River Associates since 1991. He was educated in zoology and wildlife biology at the University of California, Berkeley, the University of Montana, and Syracuse University. He worked for many years as a wildlife biologist throughout the West, including seventeen years with the U.S. Bureau of Land Management. He and his wife live in rural Mendocino County in northern California on a river to which he hopes salmon will someday return.
Defenders of Wildlife is dedicated to the protection of all native wild animals and plants in their natural communities. They focus their programs on what scientists consider two of the most serious environmental threats to the planet: the accelerating rate of extinction of species and the associated loss of biological diversity, and habitat alteration and destruction. Long known for their leadership on endangered species issues, Defenders of Wildlife also advocates new approaches to wildlife conservation that will help keep species from becoming endangered. Their programs encourage protection of entire ecosystems and interconnected habitats while protecting predators that serve as indicator species for ecosystem health. Founded in 1947, Defenders of Wildlife is a 501(c)(3) membership organization with over 460,000 members and supporters nationwide.
or
Not Currently Available for Direct Purchase