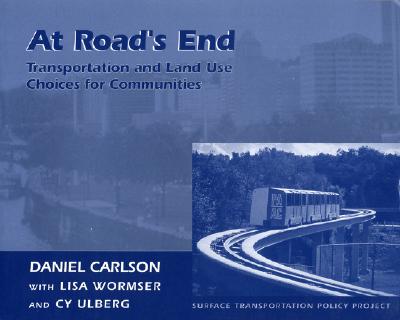 At Road's End: Transportation and Land Use Choices for Communities (Paperback)
Transportation and Land Use Choices for Communities
Island Press, 9781559633383, 182pp.
Publication Date: April 1, 1995
* Individual store prices may vary.
or
Not Currently Available for Direct Purchase
Description
At Road's End presents new models for transportation planning, describes effective strategies for resolving community disputes, and offers inspiration by clearly demonstrating that new ways of planning and implementing transportation systems can work. The book highlights case studies from around the country where plans to build more freeways are being scrapped or modified by new coalitions of environmentalists, developers, and community leaders; progressive transportation planners and officials are redefining transportation corridors to include more than roads; and communities are enhanced by bike paths, pedestrian ways, and reduced urban sprawl.

About the Author
Daniel Carlson is a research consultant at the Institute for Public Policy and Management at the University of Washington in Seattle. His areas of interest are community development, preservation, and empowerment. He is a graduate of Oberlin College and the University of California, Berkeley, where he received a master's degree in city and regional planning. He is also the author of Reusing America's Schools, a guide for converting closed schools into centers of community and economic activity. Lisa Wormser was a founding staff member of the Surface Transportation Policy Projects in 1991. As communications manager, she oversaw all aspects of STPP's public information programs. She is a graduate of Southern Methodist University and is now the owner of Two Heads, a communications consulting firm. Cy Ulberg is a research associate professor in the Graduate School of Public Affairs at the University of Washington. He is also associated with the Washington State Transportation Center, a consortium of the University of Washington, the Washington State University, and the Washington State Department of Transportation. He holds a bachelor's degree in physics from Stanford University and a doctorate in social psychology from the University of Michigan. His interests are in community development, transportation policy, and land use.
Advertisement