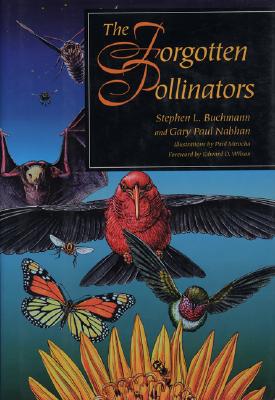 The Forgotten Pollinators
Paperback

* Individual store prices may vary.
Description
Consider this: Without interaction between animals and flowering plants, the seeds and fruits that make up nearly eighty percent of the human diet would not exist.
In The Forgotten Pollinators, Stephen L. Buchmann, one of the world's leading authorities on bees and pollination, and Gary Paul Nabhan, award-winning writer and renowned crop ecologist, explore the vital but little-appreciated relationship between plants and the animals they depend on for reproduction -- bees, beetles, butterflies, hummingbirds, moths, bats, and countless other animals, some widely recognized and other almost unknown.
Scenes from around the globe -- examining island flora and fauna on the Galapagos, counting bees in the Panamanian rain forest, witnessing an ancient honey-hunting ritual in Malaysia -- bring to life the hidden relationships between plants and animals, and demonstrate the ways in which human society affects and is affected by those relationships. Buchmann and Nabhan combine vignettes from the field with expository discussions of ecology, botany, and crop science to present a lively and fascinating account of the ecological and cultural context of plant-pollinator relationships.
More than any other natural process, plant-pollinator relationships offer vivid examples of the connections between endangered species and threatened habitats. The authors explain how human-induced changes in pollinator populations -- caused by overuse of chemical pesticides, unbridled development, and conversion of natural areas into monocultural cropland-can have a ripple effect on disparate species, ultimately leading to a "cascade of linked extinctions."
Island Press, 9781559633536, 312pp.
Publication Date: June 1, 1997
About the Author
Stephen Buchmann is a pollination ecologist specializing in bees and an adjunct professor with the departments of Entomology and of Ecology and Evolutionary Biology at the University of Arizona. A Fellow of the Linnean Society of London, he has published over 150 peer-reviewed scientific papers and eleven books, including The Forgotten Pollinators with Gary Nabhan (Island Press, 1996) and, most recently, The Reason for Flowers: Their History, Culture, Biology, and How They Change Our Lives (Scribner, 2015).
Buchmann is a frequent guest on many public media venues including NPR's All Things Considered, and Science Friday. Reviews of his books have appeared in The New York Times, Wall Street Journal, Time and Discover magazines and other national publications. He is an engaging public speaker on topics of flowers, pollinators, and the natural world. His many awards include the IBPA Benjamin Franklin Award, and an NSTA Outstanding Science Trade Book.
 

Gary Paul Nabhan is an internationally celebrated nature writer, food and farming activist, and proponent of conserving the links between biodiversity and cultural diversity. He has been been honored as a pioneer and creative force in the "local food movement" and seed saving community by Utne Reader, Mother Earth News, New York Times, Bioneers, and Time magazine.
As the W.K. Kellogg Endowed Chair in Sustainable Food Systems at the University of Arizona Southwest Center, he works with students, faculty and non-profits to build a more just, nutritious, sustainable, and climate-resilient foodshed spanning the U.S./Mexico border. He was among the earliest researchers to promote the use of native foods in preventing diabetes, especially in his role as a co-founder and researcher with Native Seeds/SEARCH. Gary is also personally engaged as an orchard-keeper, wild foods forager, and pollinator habitat restorationist working from his small farm in Patagonia, Arizona near the Mexican border. He has helped forge "the radical center" for collaborative conservation among farmers, ranchers, indigenous peoples and environmentalists in the West. He played key roles in establishing the Ironwood Forest National Monument, community-based seed banks, land reserves for conserving wild crop relatives, and restored habitats for migratory pollinators throughout the West.
Agricultural historian Peter Hatch of Monticello has called Nabhan "the lyrical scholar of genetic diversity." As an Arab-American essayist and poet, he is author or editor of twenty-four books, some of which have been translated into Arabic, Spanish, Italian, French, Croation, Korean, Chinese and Japanese. For his creative writing and its influence on community-based conservation, he has been honored with a MacArthur "genius" award, a Lannan Literary Fellowship, a Southwest Book Award, the John Burroughs Medal for nature writing, the Vavilov Medal, and several honorary degrees and lifetime achievement awards.
He works most of the year as a research scientist at Tumamoc Hill and the Southwest Center of the University of Arizona, but he is also engaged with several food justice and farming alliances, including Sabores Sin Fronteras, Santa Cruz Valley Heritage Alliance, Wild Farm Alliance, Renewing America's Food Traditions, and the Borderlands Habitat Restoration Initiative. Nabhan is humbled and honored to serve as a professed Ecumenical Franciscan brother, helping the Franciscan Action Network in shaping ethical responses to environmental injustice, to immigration issues, and to climate change.
 
or
Not Currently Available for Direct Purchase