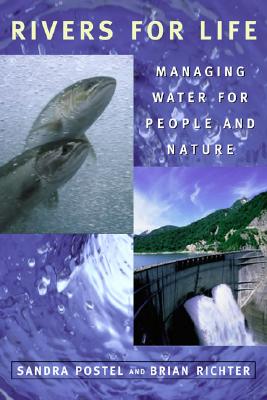 Rivers for Life (Paperback)
Managing Water For People And Nature
Island Press, 9781559634441, 220pp.
Publication Date: October 1, 2003
* Individual store prices may vary.
Description
The conventional approach to river protection has focused on water quality and maintaining some ""minimum"" flow that was thought necessary to ensure the viability of a river. In recent years, however, scientific research has underscored the idea that the ecological health of a river system depends not on a minimum amount of water at any one time but on the naturally variable quantity and timing of flows throughout the year.
In Rivers for Life, leading water experts Sandra Postel and Brian Richter explain why restoring and preserving more natural river flows are key to sustaining freshwater biodiversity and healthy river systems, and describe innovative policies, scientific approaches, and management reforms for achieving those goals. Sandra Postel and Brian Richter: explain the value of healthy rivers to human and ecosystem health; describe the ecological processes that support river ecosystems and how they have been disrupted by dams, diversions, and other alterations; consider the scientific basis for determining how much water a river needs; examine new management paradigms focused on restoring flow patterns and sustaining ecological health; assess the policy options available for managing rivers and other freshwater systems; explore building blocks for better river governance
Sandra Postel and Brian Richter offer case studies of river management from the United States (the San Pedro, Green, and Missouri), Australia (the Brisbane), and South Africa (the Sabie), along with numerous examples of new and innovative policy approaches that are being implemented in those and other countries.
Rivers for Life presents a global perspective on the challenges of managing water for people and nature, with a concise yet comprehensive overview of the relevant science, policy, and management issues. It presents exciting and inspirational information for anyone concerned with water policy, planning and management, river conservation, freshwater biodiversity, or related topics.
About the Author
Sandra Postel directs the independent Global Water Policy Project and lectures, writes and consults on global water issues. In 2010 she was appointed Freshwater Fellow of the National Geographic Society. Sandra is co-creator of Change the Course, the national water stewardship initiative awarded the 2017 US Water Prize for restoring billions of gallons of water to depleted rivers and wetlands. 

During 2000-2008, Sandra was visiting senior lecturer in Environmental Studies at Mount Holyoke College, and late in that term directed the college's Center for the Environment. From 1988 until 1994, she was vice president for research at the Worldwatch Institute. Sandra is a Pew Scholar in Conservation and the Environment, and has been named one of the Scientific American 50, an award recognizing contributions to science and technology.

A leading authority and prolific author on international water issues, Sandra has been hailed for her "inspiring, innovative and practical approach" to promoting the preservation and sustainable use of freshwater. She is author of Replenish: The Virtuous Cycle of Water and Prosperity (Island Press, 2017), Pillar of Sand: Can the Irrigation Miracle Last? and Last Oasis: Facing Water Scarcity, chosen by Choice magazine as a 1993 Outstanding Academic Book. Last Oasis appears in eight languages and was the basis for a 1997 PBS documentary. Sandra's article "Troubled Waters" was selected for inclusion in the 2001 edition of Best American Science and Nature Writing. She is also co-author (with Brian Richter) of Rivers for Life: Managing Water for People and Nature (Island Press 2003). Sandra co-founded and regularly contributes to National Geographic's freshwater blog, Water Currents.

Sandra has authored more than 100 articles for popular and scholarly publications, including Science, Natural History, Scientific American, Foreign Policy, Ecological Applications, Technology Review, Environmental Science and Technology, International Wildlife, and Water Alternatives. She has written some 20 op-ed features that have appeared in more than 30 newspapers in the United States and abroad, including the New York Times, the L.A. Times, and the Washington Post. A frequent conference speaker and lecturer, she has also served as commentator on CNN's Futurewatch, addressed the European Parliament on environmental issues, and appeared on CBS Sunday Morning, ABC's Nightline, and NPR's Science Friday. She also appears in the BBC's Planet Earth, Leonardo DiCaprio's The 11th Hour, and the National Geographic Channel's Breakthrough series.

Sandra is Water Fellow of the Post Carbon Institute, and has served as advisor to the Division on Earth and Life Studies of the U.S. National Research Council, as well as to American Rivers. She has served on the Board of Directors of the International Water Resources Association and on the editorial boards of Ecosystems, Water Policy, and Green Futures. She received a B.A. (summa cum laude) in geology and political science at Wittenberg University and an M.E.M. with emphasis on resource economics and policy at Duke University. Sandra has been awarded several honorary Doctor of Science degrees, as well as the Duke University School of Environment's Distinguished Alumni Award.
Brian Richter has been a global leader in water science and conservation for more than 30 years. He is the president of Sustainable Waters, a global water education organization, where he promotes sustainable water use and management with governments, corporations, universities, and local communities. He previously served as managing director for the Global Water Program of The Nature Conservancy, an international conservation organization. Brian has consulted on more than 150 water projects worldwide. He serves as a water advisor to some of the world's largest corporations, investment banks, and the United Nations, and has testified before the US Congress on multiple occasions. He also teaches a course on water sustainability at the University of Virginia.
 
Brian has developed numerous scientific tools and methods to support river protection and restoration efforts, including the Indicators of Hydrologic Alteration software that is being used by water managers and scientists worldwide. Brian was featured in a BBC documentary with David Attenborough on "How Many People Can Live on Planet Earth?"  He has published many scientific papers on the importance of ecologically sustainable water management in international science journals; the impact rating of his peer-reviewed journal papers places him within the top 10% of all scientists worldwide. He coauthored a book with Sandra Postel entitled Rivers for Life: Managing Water for People and Nature. His latest book, Chasing Water: A Guide for Moving from Scarcity to Sustainability, has now been published in five languages. 
 
Praise For Rivers for Life: Managing Water For People And Nature…
"...a clarion call to society for the need to balance human demands with the needs of our world's rivers, the arterial system of life on this planet. The authors describe the vanguard movement to restore rivers and to reconnect rivers with their flood plains, portraying the under-appreciated life support services our rivers perform, their ecological function, and the threats to riverine ecosystems."
— Mike Dombeck
"Finally! A book that pays attention to flow, not just pollutants, as central to river restoration. Blending science and readability, Rivers for Life offers refreshing insights into allocating limited water to meet the needs of humans and rivers."
— James R. Karr
or
Not Currently Available for Direct Purchase