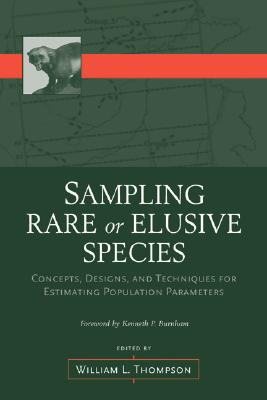 Sampling Rare or Elusive Species (Paperback)
Concepts, Designs, and Techniques for Estimating Population Parameters
Island Press, 9781559634519, 429pp.
Publication Date: December 10, 2004
* Individual store prices may vary.
About the Author
William L. Thompson is an ecologist/biometrician with the National Park Service in Anchorage, Alaska, where he helps design long-term monitoring programs for plants and animals in five national parks in southwestern Alaska. He is senior author of Monitoring Vertebrate Populations (Academic Press, 1998).
Praise For Sampling Rare or Elusive Species: Concepts, Designs, and Techniques for Estimating Population Parameters…
"After reading this book, you will have a good appreciation of general difficulties associated with monitoring rare species but also many ideas to accomplish the task.... Overall, I highly recommend this book. It is well written and informative; the authors should be credited for synthesizing very relevant information for a sub-discipline in great need of credible methodology. For the wildlife ecologist tasked with monitoring rare or elusive species, but uncertain how, this book serves as an essential step to achieve success. For students or professionals interested in the science of rare and elusive species, consider this a must-read. For those afraid of another book full of equations, don't be; Thompson and coauthors, though no doubt capable of writing technical jargon, did a fantastic job funneling their knowledge into a very readable, informative and, dare I say, enjoyable book on sampling."
— Wildlife Society Bulletin
"The contributors include some of the best quantitative thinkers in biology, and the book chapters are well written, thoughtfully organized, and very informative...An essential addition to the libraries of scientists and practitioners in wildlife biology."
— Byron K. Williams
or
Not Currently Available for Direct Purchase