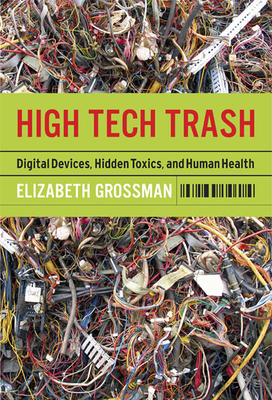 High Tech Trash
Digital Devices, Hidden Toxics, and Human Health
Hardcover

* Individual store prices may vary.
Other Editions of This Title:
Paperback (9/15/2007)
MP3 CD (6/28/2016)
Praise For High Tech Trash: Digital Devices, Hidden Toxics, and Human Health…
"We depend on writers like... Elizabeth Grossman—writers working in the great tradition of bold and rigorous American thinkers, observers, critics and muckrakers from Henry David Thoreau to Upton Sinclair, Aldo Leopold, Rachel Carson and Bill McKibben—to shake us awake, dispel the fever dream of consumerism and reveal the true cost of our love for technology and our obsession with machines and disposable goods."
— Chicago Tribune
"…as environmental journalist Grossman reveals in this engaging book, these everyday symbols of the 21st century rely on toxic materials (e.g., lead, mercury, chlorine, flame retardants) born of complex mining operations and chemical reactions, both of which can degrade the environment and affect human health…. Her language is quiet, clear, and compelling…Strongly recommended for all collections…"
— Library Journal
"Grossman manages to create a coherent, informative and scary narrative out of the births and deaths of electronics from TVs and cell phones to computer monitors and iPods."
— WIRED
"Grossman takes readers on an eyeopening, even shocking tour of the cyber underground, clearly and methodically explicating the science, politics, and crimes involved in the mishandling of the ever-increasing tonnage of e-waste."
— Booklist
"In this astonishingly wide-ranging investigation, Elizabeth Grossman exposes the toxic fallout from manufacturing and discarding high-tech gadgetry."
— Elizabeth Royte, author of "Garbage Land: On the Secret Trail of Trash"
"Lizzie Grossman is among our most intrepid environmental sleuths—here she uncovers the answer to one of the more toxic questions of our time."
— Bill McKibben, author of "The End of Nature"
"[High Tech Trash] will change the way you shop, the way you invest your money, maybe change the way you vote. It will certainly change the way you think about the high tech products in your life."
— Kathleen Dean Moore, author of "The Pine Island Paradox"
"From Arctic ice caps to dumps in southern China, Grossman takes readers on an amazing world tour as she reveals the hidden costs of our digital age. This is a story for our times."
— Sandra Steingraber, author of "Living Downstream: An Ecologist Looks at Cancer and the Environment"
Shearwater, 9781559635547, 352pp.
Publication Date: May 6, 2006
or
Not Currently Available for Direct Purchase