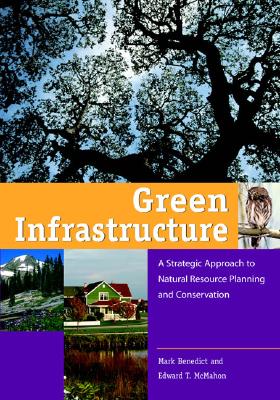 Green Infrastructure (Paperback)
Linking Landscapes and Communities
Island Press, 9781559635585, 320pp.
Publication Date: March 18, 2006
* Individual store prices may vary.
Description
With illustrative and detailed examples drawn from throughout the country, Green Infrastructure advances smart land conservation: large scale thinking and integrated action to plan, protect and manage our natural and restored lands. From the individual parcel to the multi-state region, Green Infrastructure helps each of us look at the landscape in relation to the many uses it could serve, for nature and people, and determine which use makes the most sense.

In this wide-ranging primer, leading experts in the field provide a detailed how-to for planners, designers, landscape architects, and citizen activists
About the Author
Mark Benedict is the Senior Associate for Strategic Conservation and the Senior Advisor for the Conservation Leadership Network at the Conservation Fund. He has his Ph.D. in botany/plant ecology from the University of Massachusetts, Amherst.
Ed McMahon is the Urban Land Institute/Charles Fraser Senior Resident Fellow for Sustainable Development. As the Senior Resident Fellow for Sustainable Development, McMahon's responsibilities include leading ULI's efforts to conduct research and educational activities related to green and sustainable development practices.
McMahon, a nationally renowned authority on sustainable development, land conservation and urban design, was formerly the Vice President and Director of land use programs at The Conservation Fund. McMahon is an attorney, community planner, lecturer, author and expert on the topics of sustainable development, land conservation, urban design and historic preservation.
Other recent books include Land Conservation Finance and Better Models for Commercial Development. He has organized successful efforts to acquire and protect urban parkland, wilderness areas and other conservation properties, and he has made numerous presentations on the topics of tourism, conservation, land use planning and historic preservation. McMahon is also the Cofounder and former President of Scenic America, a national non-profit organization devoted to protecting America's scenic landscapes.
McMahon has an M.A. in Urban Studies from the University of Alabama and a J.D. from Georgetown University Law School, where he taught law and public policy from 1976-1985.
 
The Conservation Fund, a national nonprofit organization, acts to protect the nation's legacy of land and water resources in partnership with other organizations, public agencies, foundations, corporations, and individuals. Since its founding in 1985, the Fund has helped its partners safeguard wildlife habitat, working landscapes, community greenspace and historic sites totaling more than 3.4 million acres throughout the nation. Its headquarters are in Arlington, Virginia.