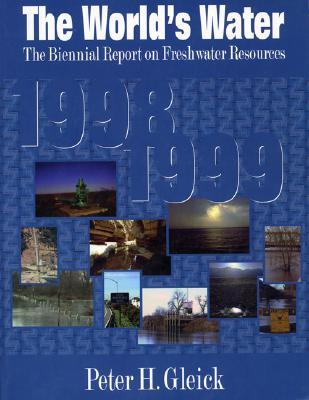 The World's Water 1998-1999 (Paperback)
The Biennial Report On Freshwater Resources
Island Press, 9781559635929, 319pp.
Publication Date: September 1, 1998
* Individual store prices may vary.
Description
The quality and availability of fresh water is of critical importance to human and ecosystem health. The World's Water 1998-1999 is a comprehensive reference on worldwide freshwater resources and the political, economic, scientific, and technological issues associated with them. It provides both detailed analysis of the most significant trends and events and the most up-to-date data available on water resources and their use. Chapters examine:

access to basic water requirements for drinking and sanitation
hydropower and dam construction
water law
water and conflict
water and global climate change
international water institutions and activities.

The book features more than fifty charts, tables, and maps that present the most current data on a range of factors including: the availability and use of water; numbers of threatened and endangered aquatic species, dam and desalination capacity worldwide; trends in several devastating water-borne diseases; changes by region in global precipitation patterns since 1900; and much more.

To be published on a biennial basis, The World's Water will be an essential reference for water resources specialists with both government agencies and nongovernmental organizations, resource economists, planners, public policy and public administration experts, environmental lawyers, students and anyone concerned with water issues.


About the Author
Dr. Peter Gleick is renowned the world over as a leading expert, innovator, and communicator on water and climate issues. He co-founded and leads The Pacific Institute in Oakland, celebrating its 25th anniversary in 2012 as one of the most innovative, independent non-governmental organizations in the fields of water and economic and environmental justice and sustainability.
Dr. Gleick's work has redefined water from the realm of engineers to the world of social justice, sustainability, human rights, and integrated thinking. His influence on the field of water has been long and deep: he developed the first analysis of climate change impacts on water resources, the earliest comprehensive work on water and conflict, and defined basic human needs for water and the human right to water—work that has been used by the UN and in human rights court cases. He pioneered the concept of the 'soft path for water,' developed the idea of "peak water," and has written about the need for a "local water movement."
Dr. Gleick received the prestigious MacArthur "genius" Fellowship and was named "a visionary on the environment" by the BBC. He was elected both an Academician of the International Water Academy, in Oslo, Norway and a member of the U.S. National Academy of Sciences. Wired Magazine featured Dr. Gleick as "one of 15 people the next President should listen to."
He received his B.S. from Yale University and an M.S. and Ph.D. from the University of California, Berkeley. Dr. Gleick serves on the boards of numerous journals and organizations, and is the author of many scientific papers and nine books, including the influential series The World's Water and Bottled and Sold: The Story Behind Our Obsession with Bottled Water, as well as A Twenty-First Century Water Policy.

Praise For The World's Water 1998-1999: The Biennial Report On Freshwater Resources…
"Anyone who cares deeply about the human need for water and the future of this planet should take careful note."
— CHOICE
"Essential for students of water—whether environmentalists, educators, engineers—or water policy planners in whatever capacity. A valuable contribution to the water literature as well as an important resource tool."
— Environment
"The World's Water is an important contribution…. It should be compulsory reading for students of water resources."
— Water International
"This book takes a truly impressive bite out of an enormous topic. Interested lay readers, students of natural resource management, and water experts will all find abundant use for The World's Water."
— BioScience
"There are few books that can genuinely be described as indispensable. This is one….essential reading."
— Financial Times Global Water Report
"Dr. Gleick has once again produced the essential book on water. The 2004-2005 edition will be an indispensable addition to our bookshelf."
— Ismael Serageldin, Director, Library of Alexandria, and Chair of the World Commission for Water in the 21st Century
or
Not Currently Available for Direct Purchase