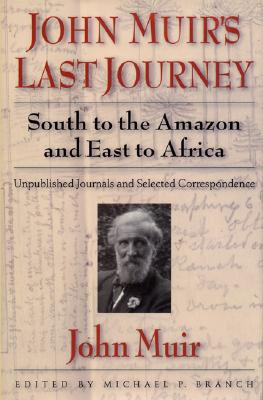 John Muir's Last Journey (Hardcover)
South To The Amazon And East To Africa: Unpublished Journals And Selected Correspondence (Pioneers of Conservation)
Island Press, 9781559636407, 400pp.
Publication Date: May 1, 2001
Other Editions of This Title:
Paperback (1/1/2004)
MP3 CD (6/28/2016)
* Individual store prices may vary.
Description
"I am now writing up some notes, but when they will be ready for publication I do not know... It will be a long time before anything is arranged in book form." These words of John Muir, written in June 1912 to a friend, proved prophetic. The journals and notes to which the great naturalist and environmental figure was referring have languished, unpublished and virtually untouched, for nearly a century. Until now. Here edited and published for the first time, John Muir's travel journals from 1911-12, along with his associated correspondence, finally allow us to read in his own words the remarkable story of John Muir's last great journey.
Leaving from Brooklyn, New York, in August 1911, John Muir, at the age of seventy-three and traveling alone, embarked on an eight-month, 40,000-mile voyage to South America and Africa. The 1911-12 journals and correspondence reproduced in this volume allow us to travel with him up the great Amazon, into the jungles of southern Brazil, to snowline in the Andes, through southern and central Africa to the headwaters of the Nile, and across six oceans and seas in order to reach the rare forests he had so long wished to study. Although this epic journey has received almost no attention from the many commentators on Muir's work, Muir himself considered it among the most important of his life and the fulfillment of a decades-long dream.
John Muir's Last Journey provides a rare glimpse of a Muir whose interests as a naturalist, traveler, and conservationist extended well beyond the mountains of California. It also helps us to see John Muir as a different kind of hero, one whose endurance and intellectual curiosity carried him into far fields of adventure even as he aged, and as a private person and family man with genuine affections, ambitions, and fears, not just an iconic representative of American wilderness.
With an introduction that sets Muir's trip in the context of his life and work, along with chapter introductions and a wealth of explanatory notes, the book adds important dimensions to our appreciation of one of America's greatest environmentalists. John Muir's Last Journey is a must reading for students and scholars of environmental history, American literature, natural history, and related fields, as well as for naturalists and armchair travelers everywhere.
About the Author
Michael P. Branch is associate professor of literature and environment at the University of Nevada, Reno, co-founder of the Association for the Study of Literature and the Environment, and co-editor of The Height of Our Mountains (Johns Hopkins University Press, 1998) and Reading the Earth (University of Idaho Press, 1998).
John Muir (1838-1914) was one of America's most famous and influential naturalist and conservationist, and founder of the Sierra Club.
Praise For John Muir's Last Journey: South To The Amazon And East To Africa: Unpublished Journals And Selected Correspondence (Pioneers of Conservation)…
"With previously unpublished journal entries and letters, this volume captures the original mountain man's final trek."
— Outside
or
Not Currently Available for Direct Purchase