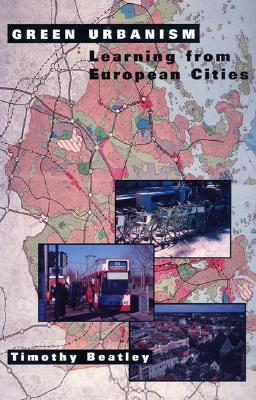 Green Urbanism (Paperback)
Learning From European Cities
Island Press, 9781559636827, 512pp.
Publication Date: December 1, 1999
* Individual store prices may vary.
Description
As the need to confront unplanned growth increases, planners, policymakers, and citizens are scrambling for practical tools and examples of successful and workable approaches. Growth management initiatives are underway in the U.S. at all levels, but many American "success stories" provide only one piece of the puzzle. To find examples of a holistic approach to dealing with sprawl, one must turn to models outside of the United States.
In Green Urbanism, Timothy Beatley explains what planners and local officials in the United States can learn from the sustainable city movement in Europe. The book draws from the extensive European experience, examining the progress and policies of twenty-five of the most innovative cities in eleven European countries, which Beatley researched and observed in depth during a year-long stay in the Netherlands. Chapters examine:
the sustainable cities movement in Europe
examples and ideas of different housing and living options
transit systems and policies for promoting transit use, increasing bicycle use, and minimizing the role of the automobile
creative ways of incorporating greenness into cities
ways of readjusting "urban metabolism" so that waste flows become circular
programs to promote more sustainable forms of economic development
sustainable building and sustainable design measures and features
renewable energy initiatives and local efforts to promote solar energy
ways of greening the many decisions of local government including ecological budgeting, green accounting, and other city management tools.
Throughout, Beatley focuses on the key lessons from these cities -- including Vienna, Helsinki, Copenhagen, Stockholm, Zurich, Amsterdam, London, and Berlin -- and what their experience can teach us about effectively and creatively promoting sustainable development in the United States. Green Urbanism is the first full-length book to describe urban sustainability in European cities, and provides concrete examples and detailed discussions of innovative and practical sustainable planning ideas. It will be a useful reference and source of ideas for urban and regional planners, state and local officials, policymakers, students of planning and geography, and anyone concerned with how cities can become more livable.
About the Author
Timothy Beatley is Teresa Heinz professor of Sustainable Communities at University of Virginia in Charlottesville, Virginia. His books include An Introduction to Coastal Zone Management (Island Press, 1994; 2nd ed., 2002), The Ecology of Place (Island Press, 1997), and Green Urbanism (Island Press, 2000).
Praise For Green Urbanism: Learning From European Cities…
"Beatley has made a valuable contribution to the field of urban sustainability…. His intended North American audience now has, thanks to his efforts, numerous ideas on how more sustainable urbanism night be promoted."
— Canadian Journal of Urban Research
"…an engaging and comprehensive book…. Green Urbanism takes an inspiring snapshot of cities implementing both government and community-led projects to promote sustainable development in Europe."
— Progress
or
Not Currently Available for Direct Purchase