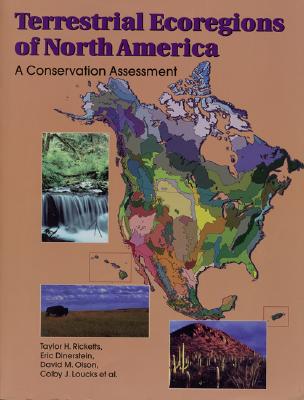 Terrestrial Ecoregions of North America (Paperback)
A Conservation Assessment (World Wildlife Fund Ecoregion Assessments #1)
Island Press, 9781559637220, 508pp.
Publication Date: June 1, 1999
* Individual store prices may vary.
Description
Lauded in the New York Times science section as "a sweeping analysis of the ecosystems of the United States and Canada," this volume represents an unparalleled source of information and data for scientists and conservationists working in North America. Using a rigorous ecoregion-based approach, rather than the more common state-by-state analysis, a team of scientists from World Wildlife Fund has produced a stunning and comprehensive assessment of the current status of biodiversity in North America north of Mexico.
Terrestrial Ecoregions of North America begins with six chapters that present the rationale for the ecoregion approach, describe the biological distinctiveness of North American ecoregions, assess the level of threats facing each, present a conservation agenda for the next decade, and set forth recommendations for preserving and restoring biodiversity. In addition, nineteen essays by leading scientists address specific topics such as the effect of cattle on riparian areas, and the problem of invasive exotic plant species. Following the main text are substantial appendixes that describe each ecoregion in detail, including information on:
unique features of the ecoregion that set it apart from the others
its biological distinctiveness, threats to habitats and wildlife, and important sites for conservation
activities that enhance biodiversity conservation in the ecoregion
conservation partners working in the ecoregion, including addresses and other contact information
the relationship of the ecoregion to other classification schemes
literature cited for that ecoregion
One of the most useful and unique features of the book is the series of thirty full-color maps that present essential information about the ecoregions and the biodiversity they contain in a compelling and easily understood graphical format.
The ecoregion-based approach has been adopted by many conservation groups as the most effective way to ward off massive losses of biodiversity, and this volume provides a road map to that important new strategy. With a significant number of previously unpublished data sets and new analytic approaches, Terrestrial Ecoregions of North America is both a guidebook for describing the biological wealth of the continent and a handbook for restoring and conserving it. It will be an essential reference for anyone concerned with biodiversity conservation in North America.
About the Author
Eric Dinerstein is Director of Biodiversity and Wildlife Solutions at RESOLVE. Previously, he was Lead Scientist and Vice President for Conservation Science at the World Wildlife Fund. His areas of specialty include tropical mammals, large mammal biology, biogeography, bats, rhinos, seed dispersal, and community ecology. With the World Wildlife Fund, he led many of the organization's most important scientific projects, including the Global 200 Ecoregions, examples of which form the basis of his book
Tigerland and Other Unintended Destinations
. Dinerstein is also the author of
The Kingdom of Rarities
, 
The Return of the Unicorns: The Natural History and Conservation of the Greater One-Horned Rhinoceros
and 
What Elephants Know: A Novel
, among other articles and publications.
He attended Northwestern University and Western Washington University, and did his post-graduate studies at the University of Washington (Organization of Tropical Studies) and the National Zoological Park's Conservation and Research Center.
Dr. Dominick A. DellaSala is President and Chief Scientist of the Geos Institute in Ashland, Oregon and President of the Society for Conservation Biology, North America Section. Dominick is an internationally renowned author of over 150 technical papers, including the award winning "Temperate and Boreal Rainforests of the World." Dominick has given plenary and keynote talks ranging from academic conferences to the United Nations (Earth Summit II). He has appeared in
National Geographic
,
Science Digest
,
Science
,
Time
,
Audubon
,
National Wildlife
,
High Country News
, Terrain Magazine,
NY Times
,
LA Times
,
USA Today
, Jim Lehrer News Hour, CNN, MSNBC, "Living on Earth," and several PBS wildlife documentaries.
He has testified in congressional hearings in defense of the Endangered Species Act, roadless area conservation, national monument designations, forest protections, and climate change among others. For his efforts to help foster national roadless area conservation and support designation of new national monuments, he received conservation leadership awards from the World Wildlife Fund in 2000 and 2004, the Wilburforce Foundation in 2006, and was twice nominated for conservation awards for his work as a whistleblower while on the U.S. Fish & Wildlife Service spotted owl recovery team. His rainforest book received an academic excellence award in 2012 from Choicemagazine, one of the nation's premier book review journals. Dominick co-founded the Geos Institute in July 2006. He is motivated by leaving a living planet for his daughter and all those to follow.
Karen Carney is  affiliated with the Conservation Science Program of World Wildlife Fund. The World Wildlife Fund is the largest privately supported international conservation organization in the world with more than one million members in the U.S. alone.
Robin Abell is a senior freshwater conservation biologist at WWF. She specializes in broad-scale conservation planning to protect freshwater biodiversity.

or
Not Currently Available for Direct Purchase