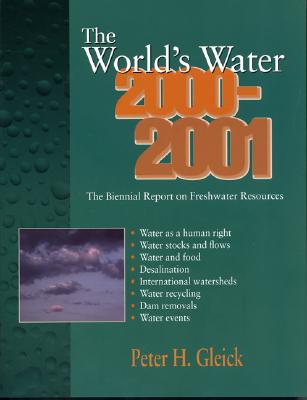 The World's Water 2000-2001 (Paperback)
The Biennial Report On Freshwater Resources
Island Press, 9781559637923, 300pp.
Publication Date: June 1, 2000
* Individual store prices may vary.
Description
The quality and availability of fresh water are of critical importance to human and ecosystem health. Given its central role in the functioning of all living systems, water is arguably the most important of all natural resources.
Produced biennially, The World's Water provides a comprehensive examination of issues surrounding freshwater resources and their use. It offers analysis of the most significant trends worldwide along with the most current data available on a variety of water-related topics. This 2000-2001 edition features overview chapters on:
water as a human right
water and food
desalination
stocks and flows of fresh water
international watersheds and water-related conflicts
water reclamation/recycling
the removal of dams
It also includes brief reports on issues such as arsenic in ground water in Bangladesh, the collection of fog as a source of water in remote regions, the role of nongovernmental organizations in meeting basic water needs, and an update on water and the internet. Following the overview chapters are more than thirty charts and tables that offer data on topics including: water use by country, agricultural water use, salinization, endangered aquatic species, major rivers in China, dam capacity, desalination capacity, and more.
The World's Water is the most comprehensive and up-to-date source of information and analysis on freshwater resources and the political, economic, scientific, and technological issues associated with them. It is an essential reference for water resource professionals in government agencies and nongovernmental organizations, researchers, students, and anyone concerned with water and its use.
About the Author
Peter Gleick is president of the Pacific Institute for Studies in Development, Environment, and Security in Oakland, California. He received his Ph.D. from the Energy and Resources Group at the University of California, Berkeley and is the recipient of a MacArthur Foundation Research and Writing Grant in Peace and International Cooperation. In addition to his research activities, Dr. Gleick serves on the Global Environmental Change Committee of the American Geophysical Union, the Board of Directors of the International Water Resources Association, the Public Advisory Forum of the American Water Works Association, and the editorial boards of several scientific journals. He has published extensively on climatic change, water resources, and environmental policy. He is widely recognized as one of the world's leading experts on freshwater resources, and is a member of the Water Science and Technology Board of the U.S. National Academy of Sciences, and an Academician of the International Water Academy in Oslo, Norway. He was recently named by the BBC as a "visionary on the environment" in its Essential Guide to the 21st Century.
The Worldwater Website, developed by Peter Gleick, is dedicated to providing up-to-date water resources information and data, with connections to organizations, institutions, and individuals working on a wide range of global freshwater problems and solutions.
Other titles by Peter Gleick:
or
Not Currently Available for Direct Purchase