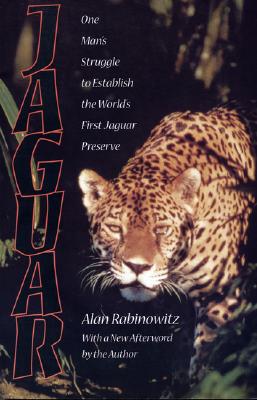 Jaguar (Paperback)
One Man's Struggle To Establish The World's First Jaguar Preserve
Island Press, 9781559638029, 416pp.
Publication Date: February 2, 2000
* Individual store prices may vary.
About the Author
Alan Rabinowitz is CEO of Panthera Foundation. Educated at the University of Tennessee, with degrees in zoology and wildlife ecology, Dr. Rabinowitz has traveled the world on behalf of wildlife conservation and has studied jaguars, clouded leopards, Asiatic leopards, tigers, Sumatran rhinos, bears, leopard cats, raccoons, and civets.

His work in Belize resulted in the world's first jaguar sanctuary; his work in Taiwan resulted in the establishment of that country's largest protected area, its last piece of intact lowland forest; his work in Thailand generated the first field research on Indochinese tigers, Asiatic leopards, and leopard cats, in what was to become the region's first World Heritage Site; and his work in Myanmar has led to the creation of five new protected areas there: the country's first marine national park, the country's first and largest Himalayan national park, the country's largest wildlife sanctuary, and the world's largest tiger reserve. 

Dr. Rabinowitz has authored nearly eighty scientific and popular articles and six books, including Jaguar: One Man's Struggle to Establish the First Jaguar Preserve (1986/2000), Chasing the Dragon's Tail: The Struggle to Save Thailand's Wild Cats (1991/2002), and Beyond the Last Village: A Journey of Discovery in Asia's Forbidden WildernessNew York Times, National Geographic Adventure Magazine, Outside Magazine, Scientific American, Men's Fitness, GEO, Natural History, and Audubon. He has been featured in television specials by the National Geographic Society and the BBC, and recently consulted on an IMAX film project about tigers in the Sundarbans of Bangladesh and India.
Praise For Jaguar: One Man's Struggle To Establish The World's First Jaguar Preserve…
"...an irresistible blend of natural history and adventure...the book excitingly describes the rewards and hardships of fighting to protect this almost mythical cat."
— George B. Schaller, author of "The Last Panda" and "Wildlife of the Tibetan Steppe"
"The glimpse which Rabinowitz's painstaking and careful research gives us of the world of the mysterious jaguar is tantalizing...Packed with interest and adventure."
— Jane Goodall, author of "Reason for Hope" and "In the Shadow of Man"
"This is a first-rate story…a fascinating account of dogged scientific research laced with personal emotions of fear, tears, mistrust, doubt, death, affection, humor, and passion….This is one of the strongest and most heartening books I have read on the efforts of humans to save and protect the world's priceless wildlife from the continuing onslaught of humanity."
"If you have ever wondered what it might be like to conduct a field study of a dangerous animal in a remote part of the world, Rabinowitz's Jaguar offers some insights….immensely readable."
"An intimate look at the lives of rural Central Americans…the tension between man and beast becomes startlingly vivid."
"influential 'eco-memoir'"
"Most highly recommended reading for anyone who cares about the preservation of natural areas and especially those who love big cats."
"A jungle adventure story in the classic mold, of a daredevil westerner who penetrates the deepest jungles of Belize in search of his quarry. There are thrills and chills aplenty in this quest for the mighty feline….A lively, dramatic ride through the jungle, with old-style iron-man adventure and love interest. A pleasant surprise."