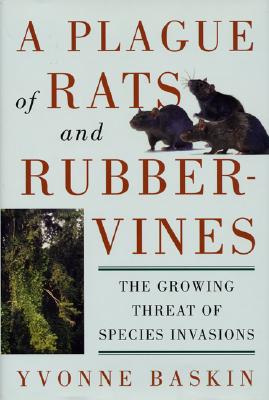 A Plague of Rats and Rubbervines
The Growing Threat Of Species Invasions
Hardcover

* Individual store prices may vary.
Other Editions of This Title:
Paperback (11/1/2003)
Description
The human love of novelty and desire to make one place look like another, coupled with massive increases in global trade and transport, are creating a growing economic and ecological threat. The same forces that are rapidly "McDonaldizing" the world's diverse cultures are also driving us toward an era of monotonous, weedy, and uniformly impoverished landscapes. Unique plant and animal communities are slowly succumbing to the world's "rats and rubbervines" -- animals like zebra mussels and feral pigs, and plants like kudzu and water hyacinth -- that, once moved into new territory, can disrupt human enterprise and well-being as well as native habitats and biodiversity.
From songbird-eating snakes in Guam to cheatgrass in the Great Plains, "invasives" are wreaking havoc around the world. In A Plague of Rats and Rubbervines, widely published science writer Yvonne Baskin draws on extensive research to provide an engaging and authoritative overview of the problem of harmful invasive alien species. She takes the reader on a worldwide tour of grasslands, gardens, waterways, and forests, describing the troubles caused by exotic organisms that run amok in new settings and examining how commerce and travel on an increasingly connected planet are exacerbating this oldest of human-created problems. She offers examples of potential solutions and profiles dedicated individuals worldwide who are working tirelessly to protect the places and creatures they love.
While our attention is quick to focus on purposeful attempts to disrupt our lives and economies by releasing harmful biological agents, we often ignore equally serious but much more insidious threats, those that we inadvertently cause by our own seemingly harmless actions. A Plague of Rats and Rubbervines takes a compelling look at this underappreciated problem and sets forth positive suggestions for what we as consumers, gardeners, travelers, nurserymen, fishermen, pet owners, business people -- indeed all of us who by our very local choices drive global commerce -- can do to help. "
Praise For A Plague of Rats and Rubbervines: The Growing Threat Of Species Invasions…
"A must read for any concerned citizen—you will not be able to put this book down!"
— Peter H. Raven, Director, Missouri Botanical Garden
Island Press, 9781559638760, 330pp.
Publication Date: April 1, 2002
About the Author
Yvonne Baskin is a Montana-based science writer and author of The Work of Nature (Island Press, 1997). Her articles have appeared in Natural History, Science, Discover, The Atlantic Monthly, and numerous other publications. For A Plague of Rats and Rubbervines, she was granted access to worldwide science and policy discussions of the Global Invasive Species Program through one of its sponsors, an international consortium of scientists known as the Scientific Committee on Problems of the Environment (SCOPE).
or
Not Currently Available for Direct Purchase