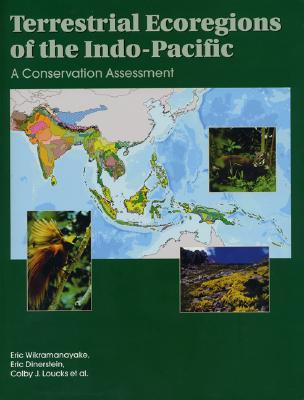 Terrestrial Ecoregions of the Indo-Pacific (Paperback)
A Conservation Assessment (World Wildlife Fund Ecoregion Assessments #3)
Island Press, 9781559639231, 824pp.
Publication Date: December 1, 2001
* Individual store prices may vary.
Description
"This book, along with its companions in this series, takes an ecoregional approach, dividing large regions into small, distinct units, each with its characteristic species, ecosystems, natural history, and threats. As such, it has no peers. It is the sourcebook for anyone who must look for where and how to act to save the variety of life on Earth." --from the foreword by Stuart L. Pimm
A number of conservation groups, including World Wildlife Fund, have in recent years adopted an approach to conservation that uses ecoregions to identify biological and conservation priority areas. Ecoregions define distinct ecosystems that share broadly similar environmental conditions and natural communities; as such, they make more sense for priority-setting efforts than do political units such as countries or provinces.
Terrestrial Ecoregions of the Indo-Pacific offers a comprehensive examination of the state of the Indo-Pacific's biodiversity and habitats, moving beyond endangered or charismatic species to quantify for the first time the number of mammal and bird species, including endemics, in each ecoregion.
The book begins with a discussion of the background and basis for ecoregion delineation and definition of the objectives and approach used. Following that, chapters describe the biological distinctiveness and conservation status of ecoregions, quantifying the amount of habitat remaining, how it is distributed, and how much is protected. The analysis concludes with a set of ecoregions that deserve immediate attention and also highlights ecoregions that are still in relatively pristine condition. Substantial appendixes offer detailed descriptions of each ecoregion, including information on:
unique features of the ecoregion that set it apart from others
its biological distinctiveness, threats to habitats and wildlife, and important sites for conservation
an agenda and recommendations for where conservation efforts should be concentrated
.
Short essays by regional experts -- including Derek Holmes, Tony Whitten, Indraneil Das, Walter Erdelen, John Seidensticker, Joyotee Smith, Kathy MacKinnon, and others -- address special topics relating to finer-scale conservation issues or ecological processes that are typically overlooked in a regional-scale analysis.
About the Author
Eric Dinerstein is Director of Biodiversity and Wildlife Solutions at RESOLVE. Previously, he was Lead Scientist and Vice President for Conservation Science at the World Wildlife Fund. His areas of specialty include tropical mammals, large mammal biology, biogeography, bats, rhinos, seed dispersal, and community ecology. With the World Wildlife Fund, he led many of the organization's most important scientific projects, including the Global 200 Ecoregions, examples of which form the basis of his book
Tigerland and Other Unintended Destinations
. Dinerstein is also the author of
The Kingdom of Rarities
, 
The Return of the Unicorns: The Natural History and Conservation of the Greater One-Horned Rhinoceros
and 
What Elephants Know: A Novel
, among other articles and publications.
He attended Northwestern University and Western Washington University, and did his post-graduate studies at the University of Washington (Organization of Tropical Studies) and the National Zoological Park's Conservation and Research Center.
or
Not Currently Available for Direct Purchase