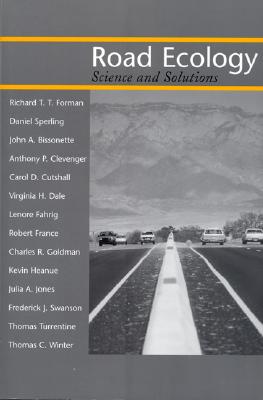 Road Ecology (Paperback)
Science and Solutions
Island Press, 9781559639330, 504pp.
Publication Date: December 1, 2002
Other Editions of This Title:
Hardcover (12/1/2002)
* Individual store prices may vary.
About the Author
RichardT.T. Forman is the PAES Professor of Landscape Ecology at Harvard University, where he teaches ecological courses in the Graduate School of Design and in Harvard College. His research and writing include landscape and regional ecology, road ecology, land-use planning and conservation, and spatially meshing nature and people in the land mosaic. Forman served on two National Academy of Sciences committees on surface transportation and the environment and began publishing road ecology articles in 1996. His books include
Land Mosaics:The Ecology of Landscapes and Regions
(Cambridge University Press, 1995) and
Landscape Ecology Principles for Landscape Architecture and Land-Use Planning
(Island Press, 1996). He is a fellow of the AAAS; served as vice president of the Ecological Society of America and the International Association for Landscape Ecology; has received medals and honors from Italy, Australia, France, the Czech Republic, China, and the United Kingdom; was named Distinguished Landscape Ecologist (USA); and received the Lindback Foundation Award for Excellence in Teaching. He received a Haverford College B.S., a University of Pennsylvania Ph.D., and honorary degrees from Miami University, Harvard University, and Florida International University, and has taught at the University of Wisconsin, Rutgers University, and in Central and South America.
Dr. Daniel Sperling is the Blue Planet Prize Distinguished Professor of Civil Engineering and Environmental Science and Policy and founding director of the 
Institute of Transportation Studies
(ITS–Davis) at the University of California, Davis. He has held the transportation seat on the California Air Resources Board since 2007 (appointed by Governors Arnold Schwarzenegger and Jerry Brown) and served as Chair of the Transportation Research Board of the National Academies in 2015-16. Among his many prizes are the 2013 Blue Planet Prize from the Asahi Glass Foundation for being "a pioneer in opening up new fields of study to create more efficient, low-carbon, and environmentally beneficial transportation systems." He served twice as lead author for the IPCC (sharing the 2007 Nobel Peace Prize), has testified 7 times to the U.S. Congress, and provided 40 keynote presentations in the past five years. He has authored or coauthored over 250 technical papers and 12 books; is widely cited in leading newspapers; has been interviewed many times on NPR, including
Science Friday
,
Talk of the Nation
, and
Fresh Air
; and in 2009 was featured on
The Daily Show with Jon Stewart
.
John A. Bissonette is a research scientist with the U.S. Geological Survey.He leads the Utah Cooperative Fish and Wildlife Research Unit and is a professor in the College of Natural Resources at Utah State University. His research interests include landscape effects on wildlife species. He is interested in the conceptual foundation for landscape ecology and how it might be used in reallife applications. Bissonette has published three other volumes:
Integrating People and Wildlife for a Sustainable Future
(The Wildlife Society, 1995),
Wildlife and Landscape Ecology: Effects of Pattern and Scale
(Springer, 1997), and
Landscape Ecology and Resource Management: Linking Theory with Practice
(Island Press, 2002). He has been invited to present keynote addresses in Australia, Germany, and Portugal, and was a Senior Fulbright Scholar at the Technic University of Munich in 2002. When not working or traveling, he rides his horse in the mountains of Utah. Address: USGS Utah Cooperative Fish and Wildlife Research Unit, College of Natural Resources, Utah State University, Logan, Utah, 84322, USA.
Anthony P. Clevenger is a wildlife research ecologist currently contracted by Parks Canada to study road effects on wildlife populations in the Banff- Bow Valley and the surrounding national and provincial parks. In that capacity, his research has focused primarily on the factors influencing mammal passage through drainage culverts and wildlife crossing structures, developing GIS-based modeling approaches to identify mitigation placement along roads, and investigating spatial patterns and factors influencing wildlife road mortality. He has worked as a wildlife biologist for the World Wide Fund for Nature–International (Gland, Switzerland), Ministry of Environment–France (Toulouse),U.S. Forest Service, and U.S. National Park Service. Dr. Clevenger is a graduate of the University of California, Berkeley, has a master's degree in wildlife ecology from the University of Tennessee, and earned a doctoral degree in zoology from the University of León, Spain. He has been an adjunct assistant professor at the University of Tennessee since 1989 and at the University of Calgary since 1998.
Carol D. Cutshall is director of the Bureau of Environment at the Wisconsin Department of Transportation. She has responsibility for approving environmental impact statements prepared by the department. Her staff provides technical assistance in the areas of history, archaeology, air and noise analysis, endangered species, water quality, wetlands, and land-use and socioeconomic factors. The department's cleanup program for petroleum-contaminated sites and its wetland mitigation banking program are also located in her office. Cutshall has overall responsibility for developing the department's environmental policies and administrative rules. She is very active in the American Association of State Highway and Transportation Officials' Standing Committee on the Environment. In addition, she serves as chairman of the Transportation Research Board's Committee on Environmental Analysis in Transportation. She holds a master's degree in urban and regional planning from the University of Wisconsin–Madison.
Virginia H. Dale is an ecologist seeking solutions for issues dealing with land use change, forest development after disturbances, landscape ecology, and environmental decision making. She obtained her Ph.D. in mathematical ecology from the University of Washington. She is a corporate fellow in the Environmental Sciences Division at Oak Ridge National Laboratory in Tennessee, where she has been a staff member since 1984. She has worked on developing modeling tools and indicators for resource management, vegetation recovery subsequent to disturbances, effects of air pollution and climate change on forests, tropical deforestation, and integrating socioeconomic and ecological models of land-use change. She has also worked on the effects of land-use change in tropical Latin America, the management of rare species on military reservations, and the ecological recovery of Mount St. Helens subsequent to the 1980 eruption. She serves on advisory boards for the Environmental Protection Agency, The Nature Conservancy, the National Academy of Sciences, the Scientific Committee on Problems of the Environment, and the Grand Canyon Monitoring and Research Center. She is also editor-in-chief of the journal
Environmental Management
.
Lenore Fahrig is professor of biology at Carleton University, Ottawa, Canada. Dr. Fahrig studies the effects of landscape structure on wildlife populations. She uses spatial simulation modeling to formulate predictions and tests those predictions using a wide range of organisms, including plants, insects, amphibians, mammals, and birds. Her current work on road system ecology includes empirical studies of road impacts on small mammal and amphibian populations and movements as well as generalized simulation modeling of population responses to road networks. Dr. Fahrig has published over 50 papers in landscape ecology, and many of her recent papers focus on ecological impacts of roads. She is currently a member of the U.S. National Academy of Sciences Committee on Ecological Impacts of Road Density.
Robert France is associate professor at the Harvard Design School, Harvard University, where he teaches courses on watershed management, urban stormwater design, and environmental theory. He is president of W.D.N.R.G. Limnetics, a firm specializing in ecological restoration. He conducts research on the aquatic ecology (limnology) effects of riparian deforestation. France is author of over 100 scientific papers, with emphases on terrestrial-aquatic interactions, stable isotopes, biodiversity, and contaminants and polynyas in the Canadian arctic. His authored and edited books include
Handbook of Water Sensitive Planning and Design
(Lewis Publishing, 2002).He is the editor of a book series for Lewis Publishing entitled
Integrative Studies in Water Management and Land Development
. France received a BSc from the University of Manitoba, an MSc from the Freshwater Institute in Winnipeg, and a Ph.D. from the University of Toronto, and has conducted research and taught at McGill University. Address: Harvard University, Harvard Design School, Cambridge, Massachusetts, 02138, USA.
Charles R. Goldman is professor of limnology in the Department of Environmental Science and Policy at the University of California, Davis. He has served as chair of the Division of Environmental Studies and as founding director of the Institute of Ecology at U.C., Davis, and he is currently director of the Tahoe Research Group. His four decades of research on Lake Tahoe, California, have included lake dynamics, eutrophication, the development of artificial wetlands, de-icing agents for highways, and comparative analyses of Lake Baikal, Russia, and hydroelectric impoundments worldwide. Dr. Goldman received bachelor's and master's degrees from the University of Illinois and a Ph.D. in limnology-fisheries from the University of Michigan. His many awards include a Guggenheim Fellowship in Italy, an NSF Senior Postdoctoral Fellowship in Lapland, the Congressional Antarctic Service Medal, a Fulbright Professorship in Yugoslavia, and the Albert Einstein World Award of Science. He served as vice president of the Ecological Society of America and as president of the American Society of Limnology and Oceanography. He has published four books and over 400 research articles and has frequently translated his research findings to state, national, and international policy decisions, including the conservation and judicious use of aquatic resources on all continents.
Kevin Heanue, after a 40-year career with the U.S. Federal Highway Administration, consults on transportation planning, environmental analysis, organizational development, and related issues. His consulting practice has included projects for the Eno Transportation Foundation, American Highway Users Alliance, Transportation Research Board, and FHWA. During his federal career, he served for eight years as director of the Office of Environment and Planning, administering statewide, intermodal, urban planning, and environmental programs. He is active in the Transportation Research Board and currently serves as chair of the Task Force on Transportation in a Sustainable Environment. In 1970–1971, he directed the Dublin, Ireland, Transportation Study for the United Nations Development Program. He has consulted with the World Bank in China and serves on the International Steering Group for the World Bank, Urban Transport Strategy Review. He holds a B.S. in civil engineering from Tufts University and an M.S. in civil engineering from Georgia Institute of Technology.
Julia A. Jones is a professor in the Department of Geosciences at Oregon State University, where she teaches graduate and undergraduate courses related to spatial statistics, landscape ecology, and geographical analysis of watershed dynamics. Her research interests include the hydrological effects of road networks in National Forest land, roadside plants, physical stream processes, and the spatio-temporal analysis of ecological and physical processes at landscape to regional scales. Dr. Jones received a B.A. in economic development from Hampshire College and an M.A. in international relations and a Ph.D. in geography and environmental engineering from Johns Hopkins University. She served as a research assistant at Resources for the Future, Washington, D.C., and as associate professor in geography and environmental studies at the University of California, Santa Barbara.
Frederick J. Swanson is a research geologist with the USDA Forest Service, Pacific Northwest Research Station, in Corvallis, Oregon, and a Forest Service lead scientist for the ecosystem research team based at the H. J. Andrews Experimental Forest in the Oregon Cascade Range. He has been a leader of the National Science Foundation–sponsored Long-Term Ecological Research program based at the Andrews Forest since 1980.Throughout a thirty year career, Dr. Swanson's research has focused on interactions of geophysical processes with forest and stream ecosystems in mountain landscapes under both natural conditions and influences of land management, including roads. His interest in interactions of science and policy is reflected in part by his co-editorship of the book
Bioregional Assessments: Science at the Crossroads of Management and Policy
(Island Press, 1999). He holds a bachelor's degree from Pennsylvania State University and a Ph.D. from the University of Oregon, both in geology.
Thomas Turrentine began his anthropology career studying processes of cultural change among villagers in the Peruvian Andes. For the past 12 years, he has been with the Institute of Transportation Studies at the University of California, Davis, studying consumer and citizen response to clean automotive technologies and policies. Dr. Turrentine has been spearheading the development and funding of an interdisciplinary research center at ITS–Davis, which will focus on understanding the problems of transportation in fragile environments. He is currently working on market strategies for fuel-cell vehicles. He received his Ph.D. in anthropology from the University of California, Davis, and held a postdoctoral fellowship at the University of Laval, Quebec. He has conducted field research in Peru, Bolivia, Chile, Canada, New Zealand, and the USA; served on an OECD panel on solutions to the negative impacts of car use; and works with the U.S. National Park Service on solutions to the environmental impacts of car use in national parks.
Thomas C. Winter is a senior research hydrologist with the U.S. Geological Survey in Denver, Colorado. He earned B.A. and M.S. degrees in geology and a Ph.D. in hydrogeology at the University of Minnesota. From 1961 to 1972, he conducted geological and water resource studies in Minnesota and was in charge of USGS groundwater studies there from 1968 to 1972. Since 1973, he has conducted research on the hydrology of lakes and wetlands, with emphasis on their interaction with groundwater and evaporation. In the late 1970s, he helped establish, and has since been a principal investigator at, four long term field research sites: the Mirror Lake watershed in New Hampshire, the Shingobee River headwaters area in Minnesota, the Cottonwood Lake wetland complex in North Dakota, and the Island Lake area of the Crescent Lake National Wildlife Refuge in Nebraska. He also has been involved with lake and wetland studies in Washington, California, Colorado, Wisconsin, Massachusetts, and Florida. He has received the Distinguished Service Award from the U.S. Department of the Interior, the M. King Hubbert Award from the National Ground Water Association, the W. R. Boggess Award from the American Water Resources Association, the Lifetime Achievement Award from the Society of Wetland Scientists, and the O. E. Meinzer Award from the Geological Society of America.

Praise For Road Ecology: Science and Solutions…
"How many contributors does it take to provide the best thinking and research about how our road systems and our natural environment can coexist? In the case of Road Ecology: Science and Solutions…the answer is 14…. For any planner who deals with natural areas, this book offers a thoughtful and thought-provoking introduction to an unjustifiably neglected field."
— Planning
"…this volume focuses on bringing together information from disparate fields into a coherent framework, accessible to transportation planners as well as ecologists."
— Conservation in Practice
or
Not Currently Available for Direct Purchase