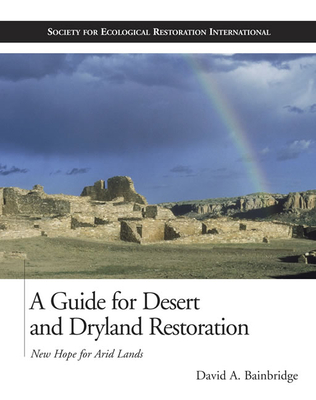 A Guide for Desert and Dryland Restoration (Hardcover)
New Hope for Arid Lands (The Science and Practice of Ecological Restoration Series)
Island Press, 9781559639682, 416pp.
Publication Date: June 11, 2007
* Individual store prices may vary.
Description
Dryland degradation and desertification now affect almost a billion people around the world. Tragically, the biological resources and productivity of millions of acres of land are lost to desertification each year because people remain unaware of strategies and techniques that could improve yields, reduce risk, and begin healing the world's deserts. A Guide for Desert and Dryland Restoration is the first book to offer practical, field-tested solutions to this critical problem.
Author David Bainbridge has spent more than 25 years actively involved in restoring lands across the American Southwest. A Guide for Desert and Dryland Restoration presents the results of his years of fieldwork, as well as research and experience from scientists and practitioners around the globe.
The book discusses the ecology of desert plants, explores the causes of desertification and land abuse, and outlines the processes and procedures needed to evaluate, plan, implement, and monitor desert restoration projects. It sets forth economical and practical field-tested solutions for understanding site characteristics, selecting and growing plants, and ensuring that they survive with a minimal amount of water and care. Each chapter represents a guide to a critical topic for environmental restoration; extensive photographs, diagrams and drawings give detailed information for immediate application, and additional resources are included in appendixes.
A Guide for Desert and Dryland Restoration is the first comprehensive book focused on restoring arid regions, and clearly demonstrates that arid lands can be successfully rehabilitated. In addition to restorationists, the book will be an invaluable resource for anyone working in arid lands, including farmers, ranchers, gardeners, landscapers, outdoor recreation professionals, and activists.
About the Author
David Bainbridge was trained as an earth scientist and ecologist. His special interest is sustainable management of dry lands.
Praise For A Guide for Desert and Dryland Restoration: New Hope for Arid Lands (The Science and Practice of Ecological Restoration Series)…
"This valuable reference will be useful for soil scientists, ecologists, biologists, conservationists, and two- and four-year college and university academicians involved with teaching and research on this topic."
"David Bainbridge presents a realistic view of the ecological challenges to healing the world's deserts and drylands. Moreover, he offers innovative approaches to desert protection and restoration that can be practically implemented by those in the field."
— Yvon Chouinard, founder and chief executive officer, Patagonia
"
A Guide for Desert and Dryland Restoration
belongs in every manager's toolbox and on the shelf of every researcher seeking to improve our understanding of desert ecosystems and new approaches to managing them. The author's passion and expertise show in this outstanding summary of knowledge from his experiences, published research, and the craft of farmers and herders through the millennia."
— Michael F. Allen, director, Center for Conservation Biology
"Within these pages one finds a comprehensive overview of the myriad challenges inherent in arid lands restoration, and also practical approaches, field tested by decades of trial and error, to successfully restore these globally important lands. David Bainbridge has provided an important and informative guide to restoration of fragile desert ecosystems."
— Robert MacAller, principal, restoration biologist, RECON Environmental
"Bainbridge brings the desert to life and richly illustrates practical, proven techniques from around the world for healing damaged drylands. This book should find its way into classrooms where principles of applied ecology and ecosystem restoration are taught."
— Ross A. Virginia, Professor of environmental studies, Dartmouth College
"This book provides an all-in-one handbook for restoration ecologists, farmers, ranchers, and others ready to roll up their sleeves and get to work restoring degraded drylands, whether in temperate or tropical environments. It synthesizes practical lessons for restoring ecosystem functions in a dryland landscape, drawing upon diverse methods from time-tested indigenous knowledge to cutting-edge science."
— Sara J. Scherr, President, Ecoagriculture Partners
"A Guide for Desert and Dryland Restoration is an excellent source of practical information for restoration and another fine publication from Island Press."

or
Not Currently Available for Direct Purchase