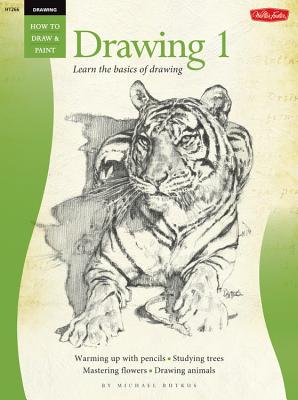 Drawing (Paperback)
Drawing 1: Learn the basics of drawing (How to Draw & Paint)
Walter Foster Publishing, 9781560104841, 32pp.
Publication Date: January 1, 2003
* Individual store prices may vary.
Description
In this book, Mike Butkus offers the perfect introduction to the exciting world of drawing! Inside Drawing 1, you will find an array of beautiful drawings that will inspire you to explore the medium further. The author covers a wide range of the most popular subjects as he introduces a number of basic art concepts and drawing techniques. You'll learn about creating basic face and figure proportions, developing realistic textures, adding depth and distance to landscapes, and more. You also will learn about the tools and materials you will need to get started drawing your own favorite subjects. After this introduction, you'll be ready for Drawing 2, where you will find step-by-step demonstrations to help you further your drawing skills.
About the Author
Michael Butkus was trained at Otis Parsons in Los Angeles and the Art Center College of Design in Pasadena, California. He has taught illustration and rendering techniques, along with character design and visual development, to art industry professionals and commercial art students. Michael has worked on more than 2,500 films in the areas of advertising, movie poster art, set design, and character design. Michael also invented and illustrated hundreds of characters for Lucasfilms' Shadow of the Empire. Clients include Paramount, Warner Brothers, Universal, Disney, DreamWorks, and LucasArts, as well as a number of toy companies that employ his imaginative creations and conceptual renderings for product design. Michael lives in Los Angeles, CA.