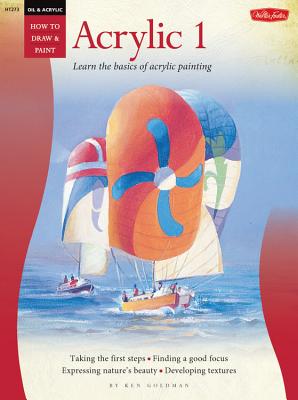 Beginner's Guide: Acrylic 1 (Paperback)
Acrylic 1
Walter Foster Publishing, 9781560104919, 31pp.
Publication Date: January 1, 2003
Description
In Acrylic 1, Ken Goldman offers the perfect introduction to the exciting world of acrylic painting Inside, you will find an array of beautiful paintings that will inspire you to explore the medium further. Ken covers a range of popular painting subjects as he introduces a number of basic art concepts and techniques, all clearly explained and illustrated. You will learn how to create excitement with contrasts of color and neutral tones, as well as how to depict movement. Then you'll be ready for Acrylic 2, where you will find step-by-step demonstrations to help you further your painting skills.
About the Author
Award-winning artist Ken Goldman is an internationally known artist, author, teacher, and art juror. His work has been exhibited in group and solo exhibitions in Holland; Paris; Mexico; New York; Boston; Washington, D.C.; the Oceanside Museum of Art: 100 Artists, 100 Years 1915-2015; the International Fabriano en Acquarello 2015 (Italy); China's Shenzhen International Biennial 2013-2014; and the Shanghai International Biennial 2012-2013. He currently serves as president of the National Watercolor Society. Visit www.goldmanfineart.com.
Advertisement